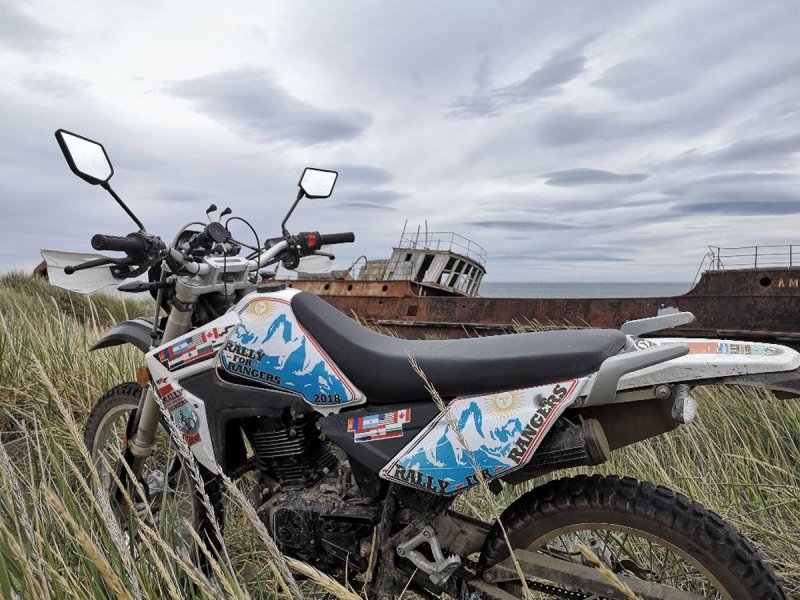 Another long day with disappearing roads, shipwrecks, guanacos, a broken truck and back tracking. I have to hand it to our guide Roberto, he did his best to get us off the paved roads, but this part of the world is vast and relatively uninhabited. You can drive down a main highway, such as Route-9 between two cities and seldom experience oncoming traffic. When on the secondary roads, which are not paved, one can certainly feel alone in the world and unexpected things can happen.
The day's destination was the beautiful Puerto Natales, Chile, gateway to the world-famous Torres del Paine. It is about 250KM from Punta Arenas to Puerto Natales. We could easily make it there in 5 hours with a couple breaks and a fuel stop, but it would be just more pavement and wind. Instead we would travel East on Route 255 to La Estancia San Gregorio and then take dirt roads back to the northwest to our hotel in Puerto Natales.
Our track for this long day. If you cannot see the map, try this link.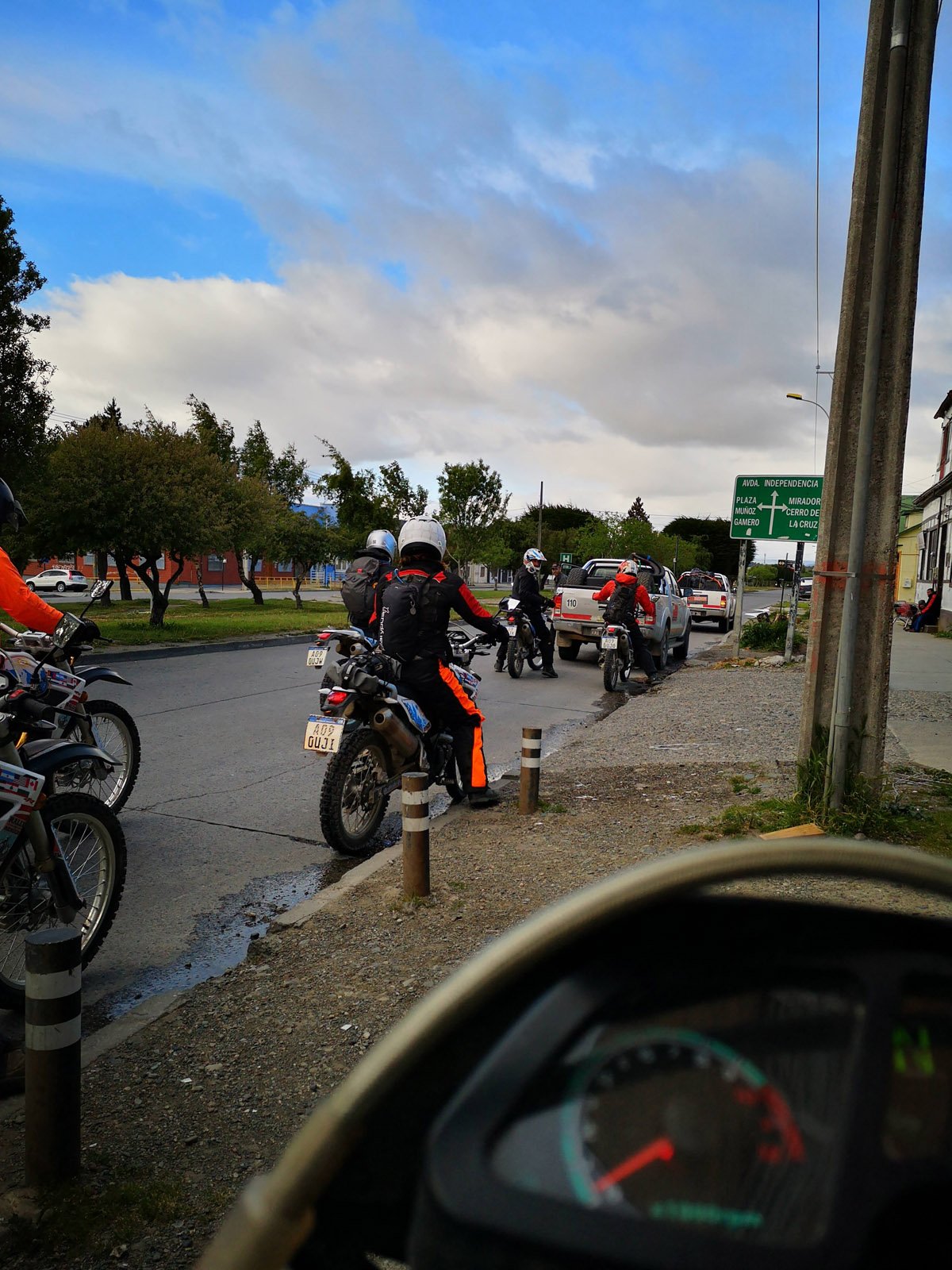 Getting underway and leaving the beautiful city of Punta Arenas, Chile.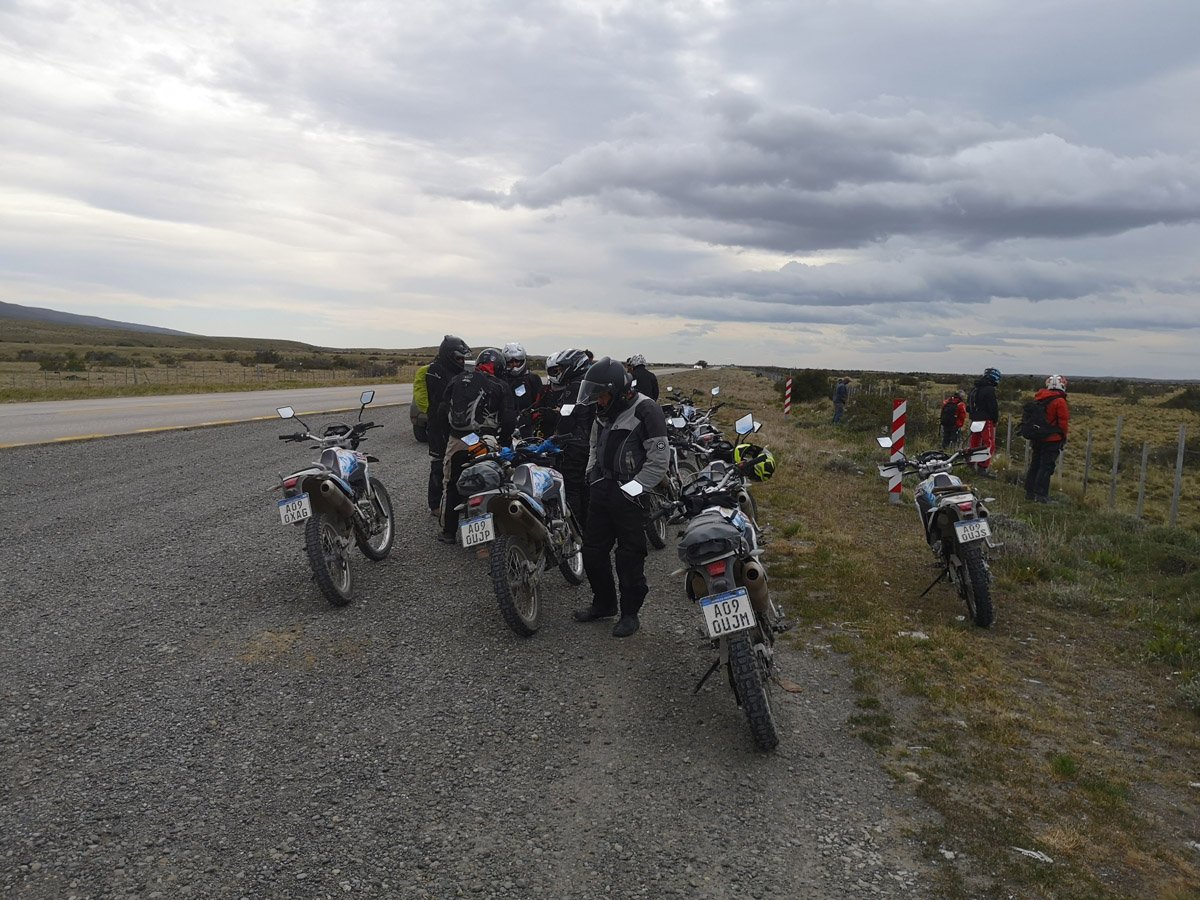 An hour is about as long as one wants to go on these little bikes. Stopping for rest.

Another hour or two and we are in the dirt. This was a fun road to ride on.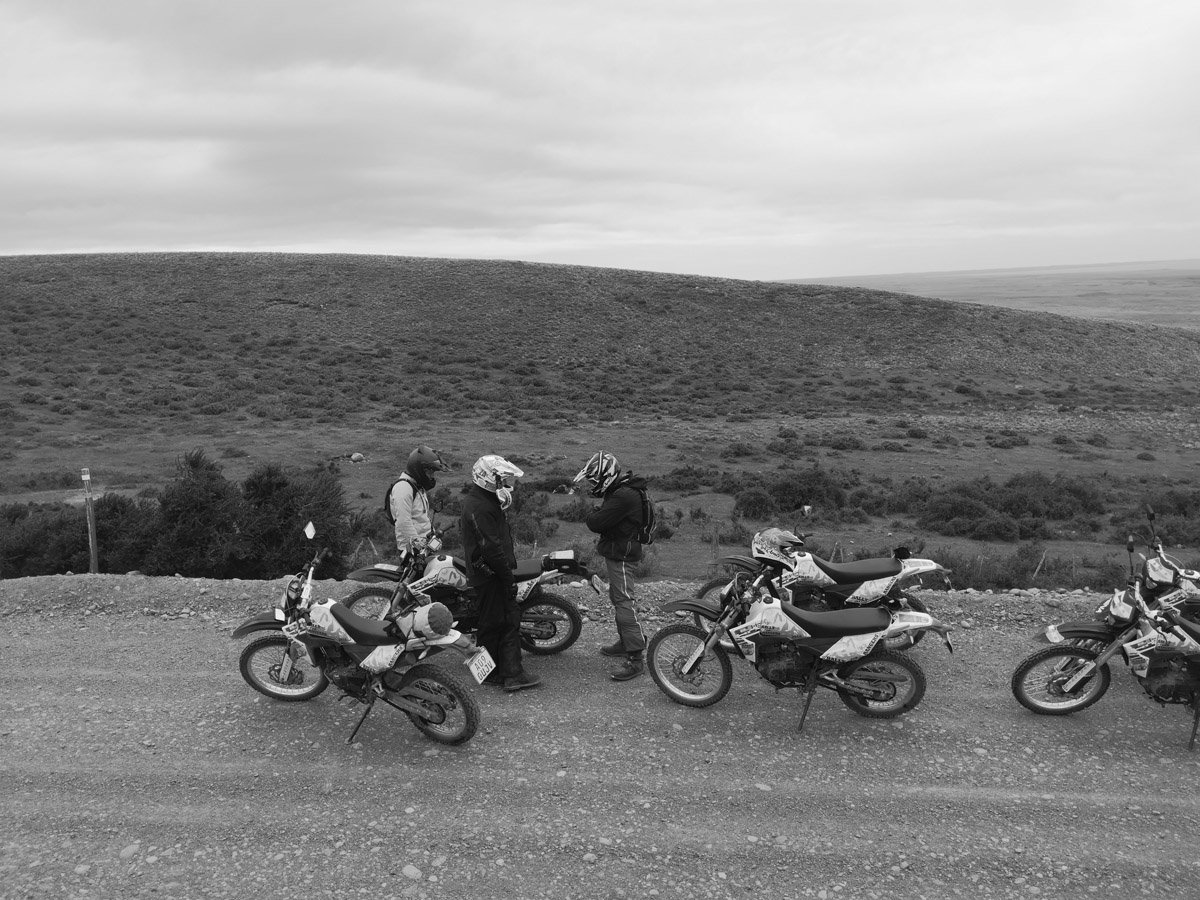 Stopping for another rest in Black and White.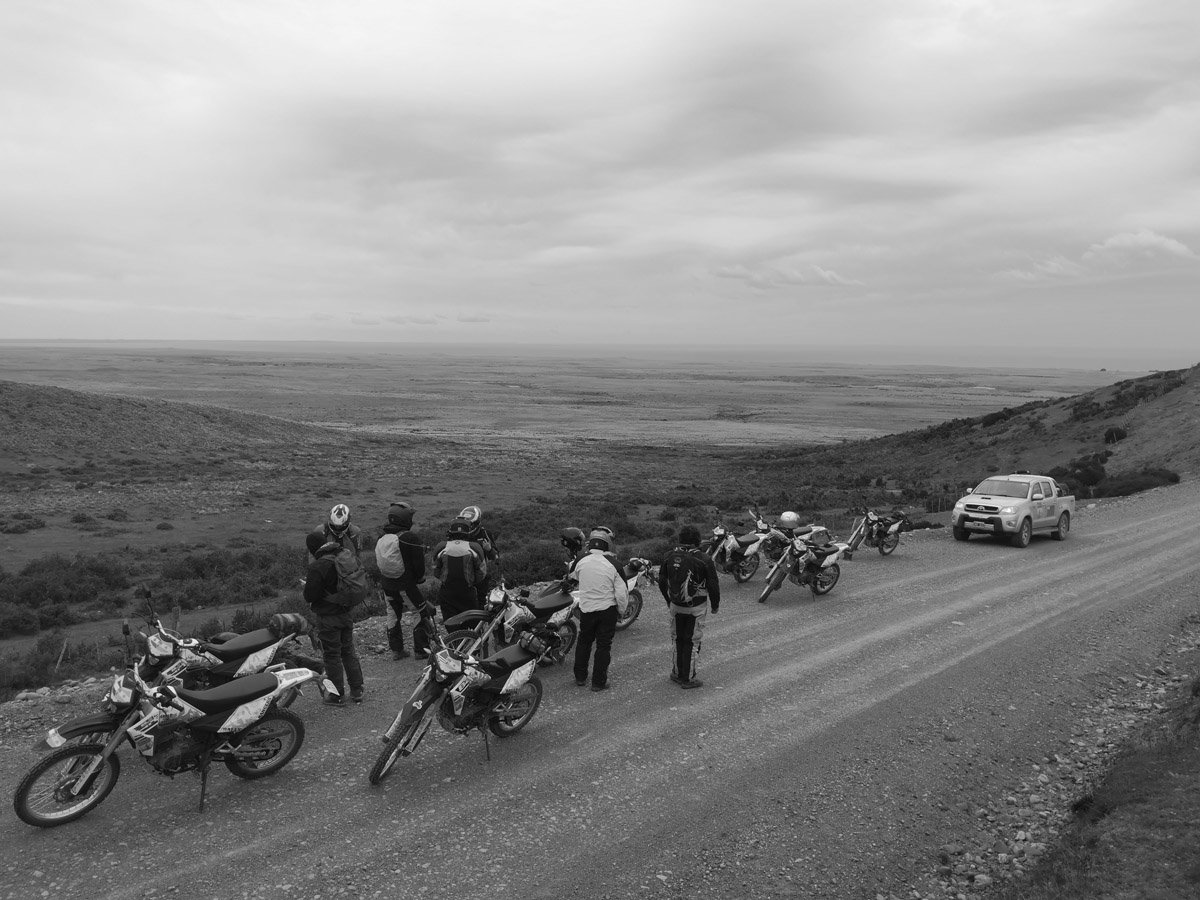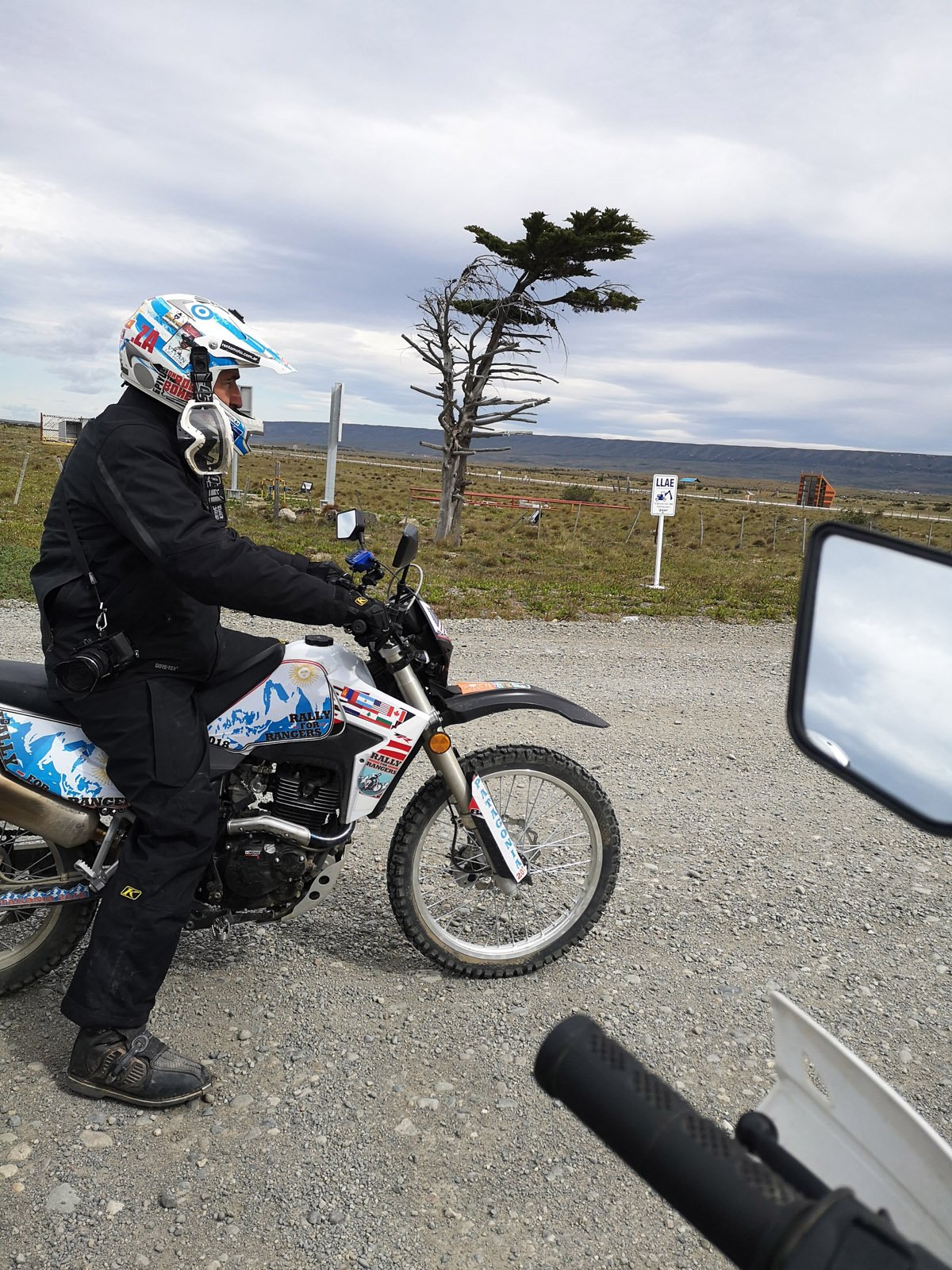 Roberto pondering the route. The tenacious tree behind him, obviously from hardy stock having spent it's life alone in a strong, steady wind.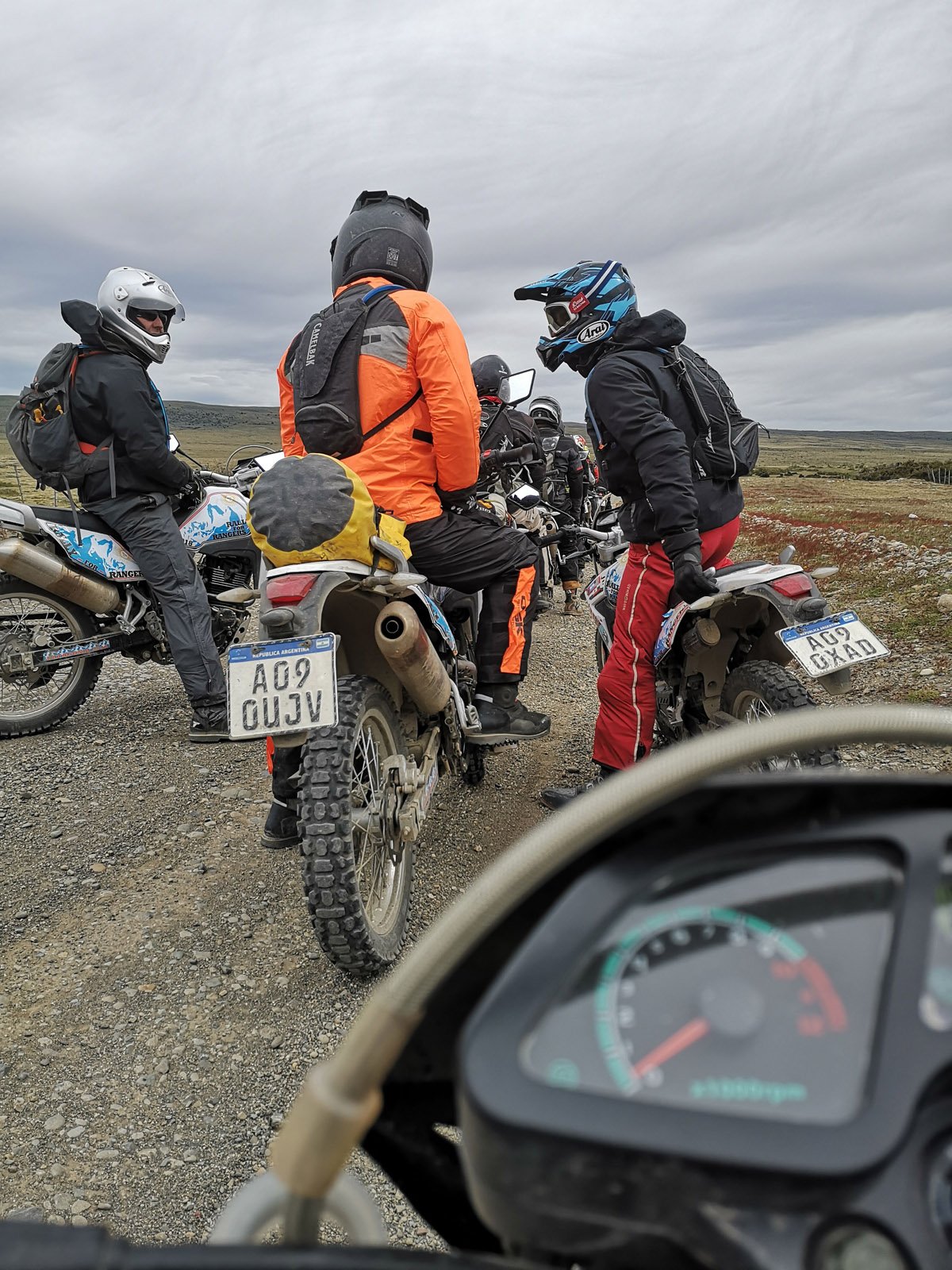 Robert in the silver helmet, Orlin in orange and Steven discussing the roads and maybe the dead guanacos that were hung up on the fences.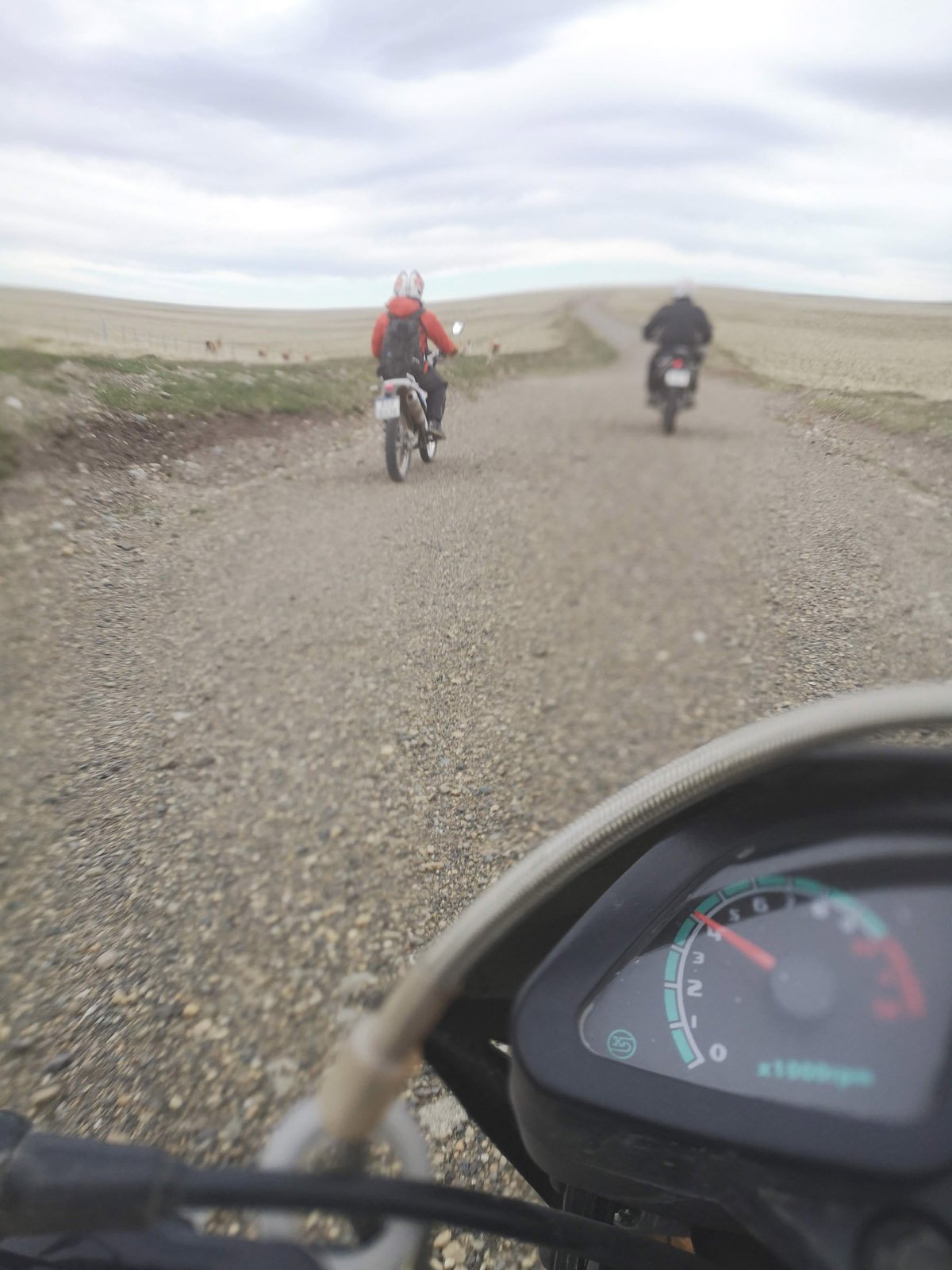 Don't judge me or my camera for this shot. Appreciate that I am riding on a dirt road at a fair clip and removing my mitt to take a picture on a wide-angle cellphone camera that is mounted on my handlebars so that I could remember what it was like to ride with guanacos on all sides of us.
The guanacos are kind of like our deer here in Canada but much bigger and more plentiful. We were warned on day-one that these guys can dart in front of you at any time. Over the 9-days on the road, I had several very close calls with them. They are very shy, they don't like our presence at all and they scatter away when they hear us coming. One day, a young guanaco ran across the road in front of me and jumped the fence. The poor guy didn't make it and crashed down on the ground. He immediately picked himself up and began to run along side the fence looking for a place to get over. I was riding right beside him on my motorcycle and clocked his speed at a very impressive 65 Km/h.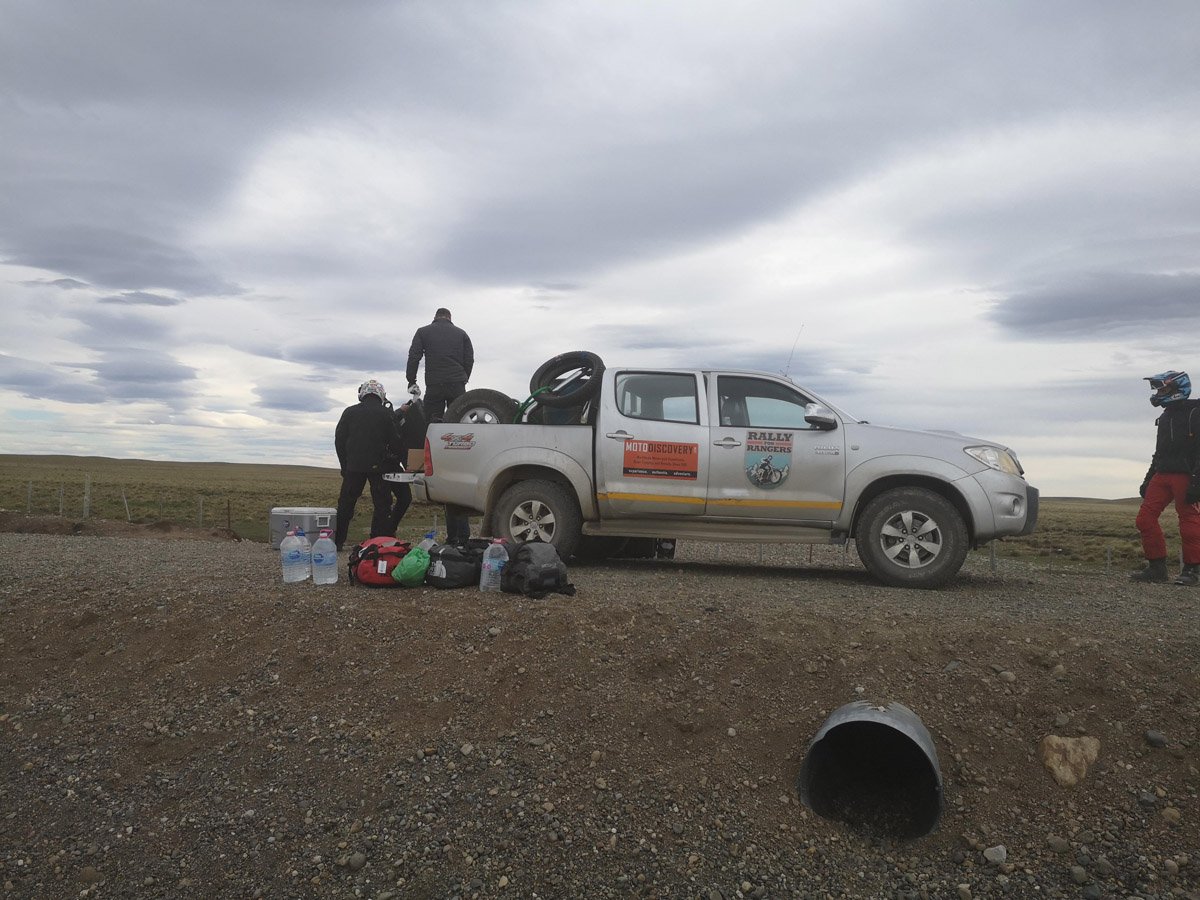 Our mishap for the day resulted in a broken rear window on the support truck.
While travelling down the dirt road, we came to a fork in the road and then another and we were trying to figure out the right road to take. The support vehicles are usually a little ways back from the riders. Sometimes the road can hide the big bumps and that is what happened here. What appeared small was actually sizable ditch across the road and when the truck went through, the load shifted and the rear window was smashed out. Fortunately there were no injuries and the truck was still drivable. This left us in another holding pattern where we were biding our time. So what do motorcycle people do when there is some time to spare and they are stuck in the middle of nowhere at "the end of the world"? They explore and ride around in the barren sheep/guanaco fields, that's what. And here is where I feel I must direct a little criticism. As donors, we purchased these motorcycles and we were all determined to deliver them in good condition. Riding the bikes at wide open throttle on paved roads is not really what these little bikes are designed for but they managed admirably in these conditions. Riding in low gear around the fields and in the ditches is exactly what these bikes are designed for but we were asked not to do so and instead sit idly by waiting for the show to go on. I can understand the concern of the organizers, they suffered a minor accident with the truck and a motorcycle incident is the last thing they would need. From my perspective though, it was frustrating to be in the right place on the right bike and then asked not to ride after all the expense and sacrifice we offered as donors. A small gripe in an otherwise fantastic experience.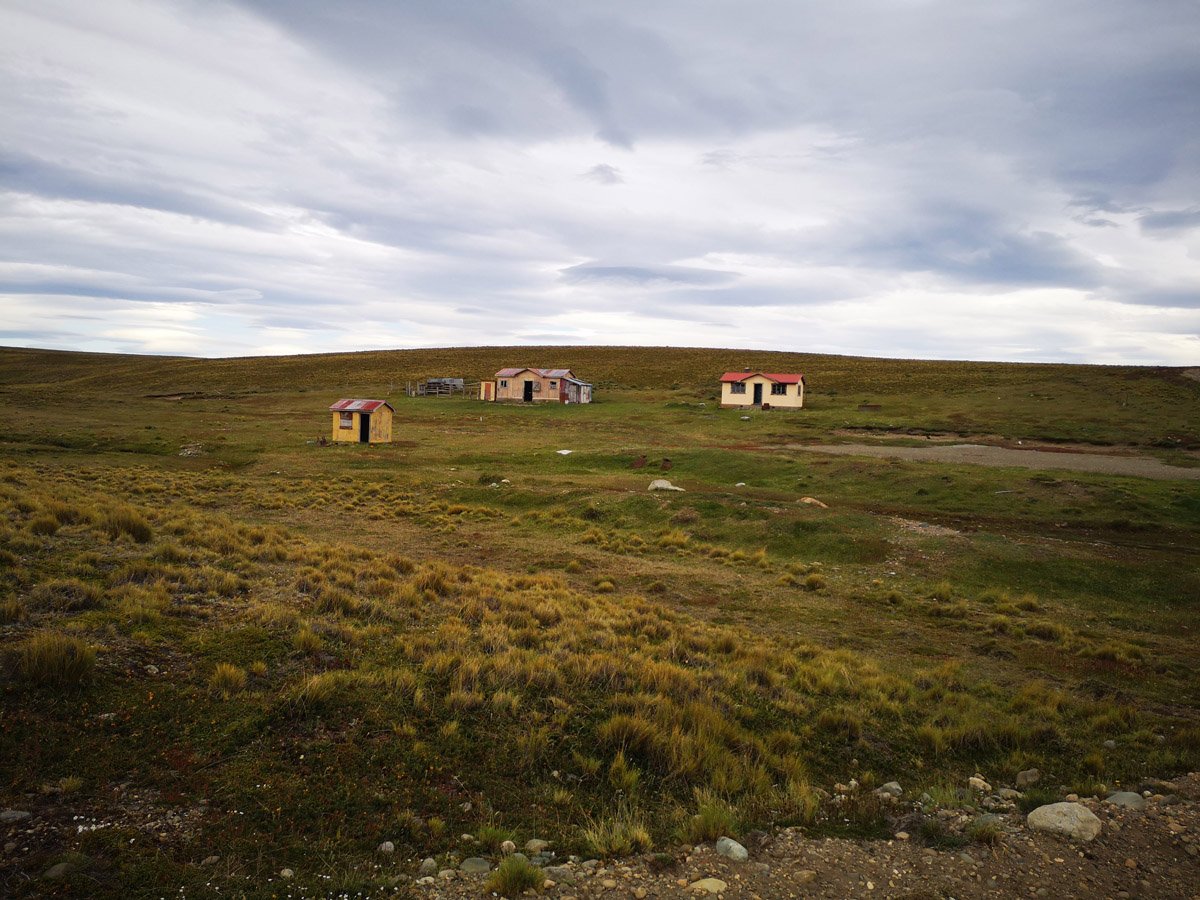 After making our way about 40 KM down the dirt road, we came to a dead end and turned around.
We came back to one of the forks in the road and Roberto scouted it to see if it would provide a good route. We waited here while he explored. We could see him ride away, down the road for miles and when he returned, he led us back out to the highway at San Gregorio. The ride back to San Gregorio was a lot of fun and several of the riders, myself included rode off ahead and pushed hard down that that dirt road.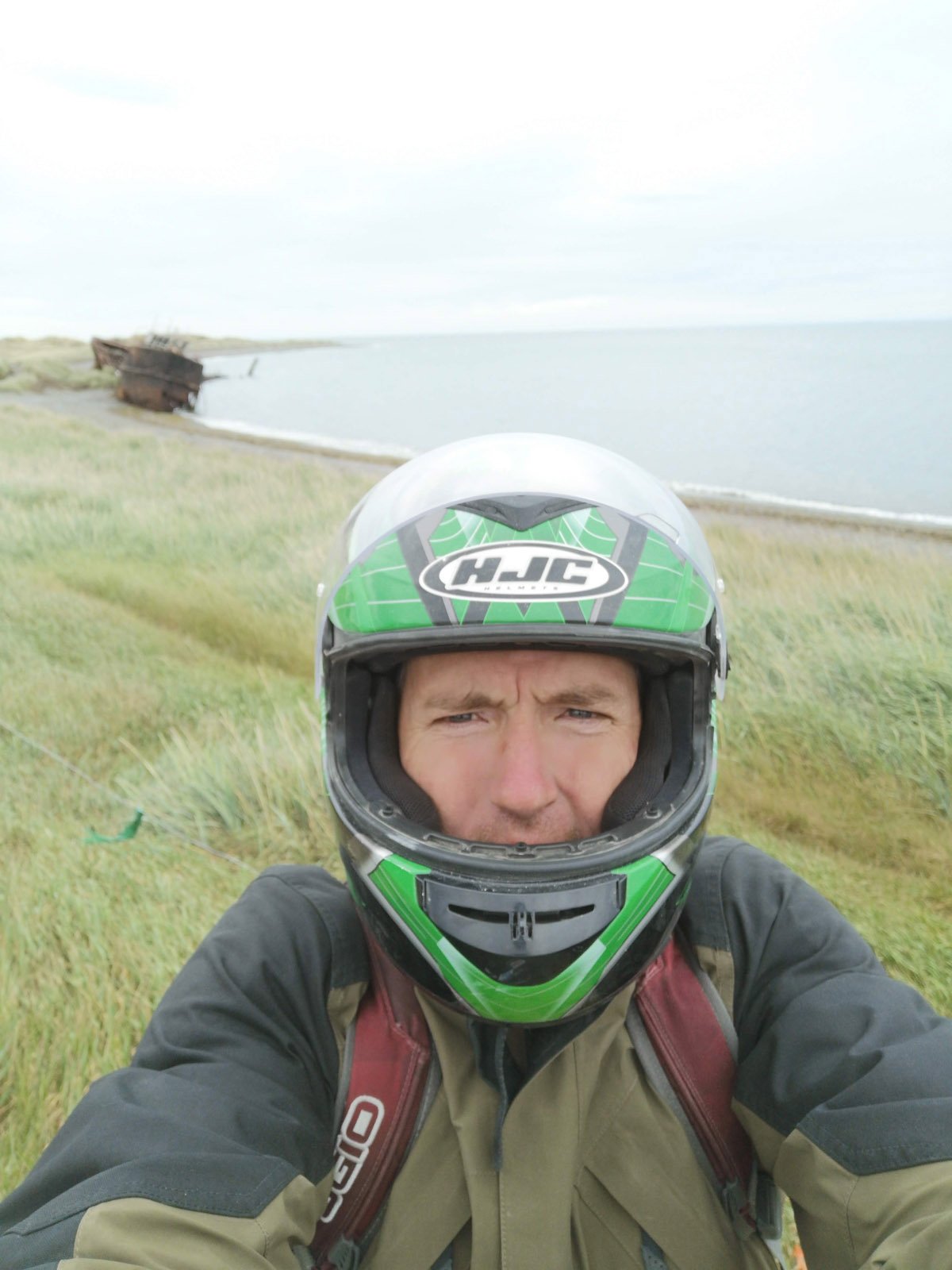 At San Gregorio, there is another shipwreck and an abandoned residence.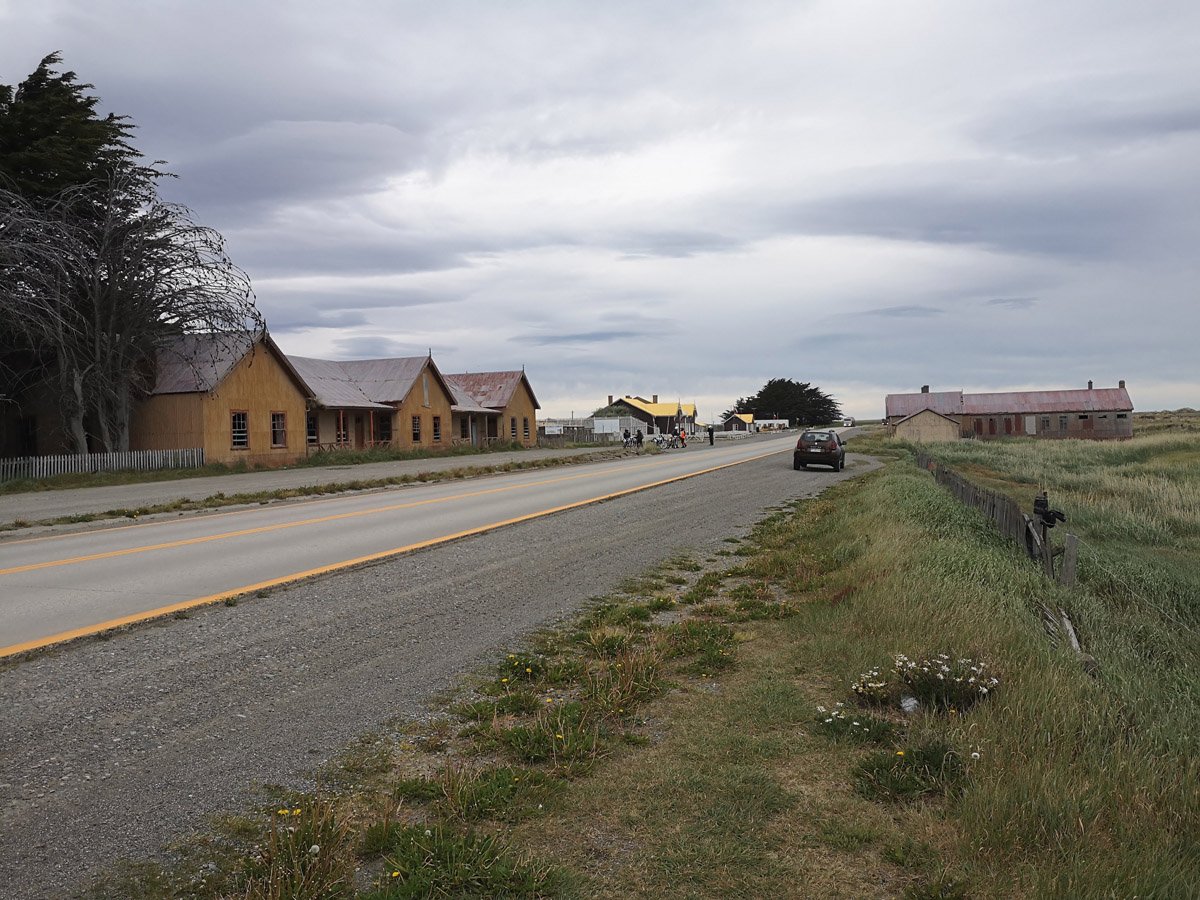 La Estancia San Gregorio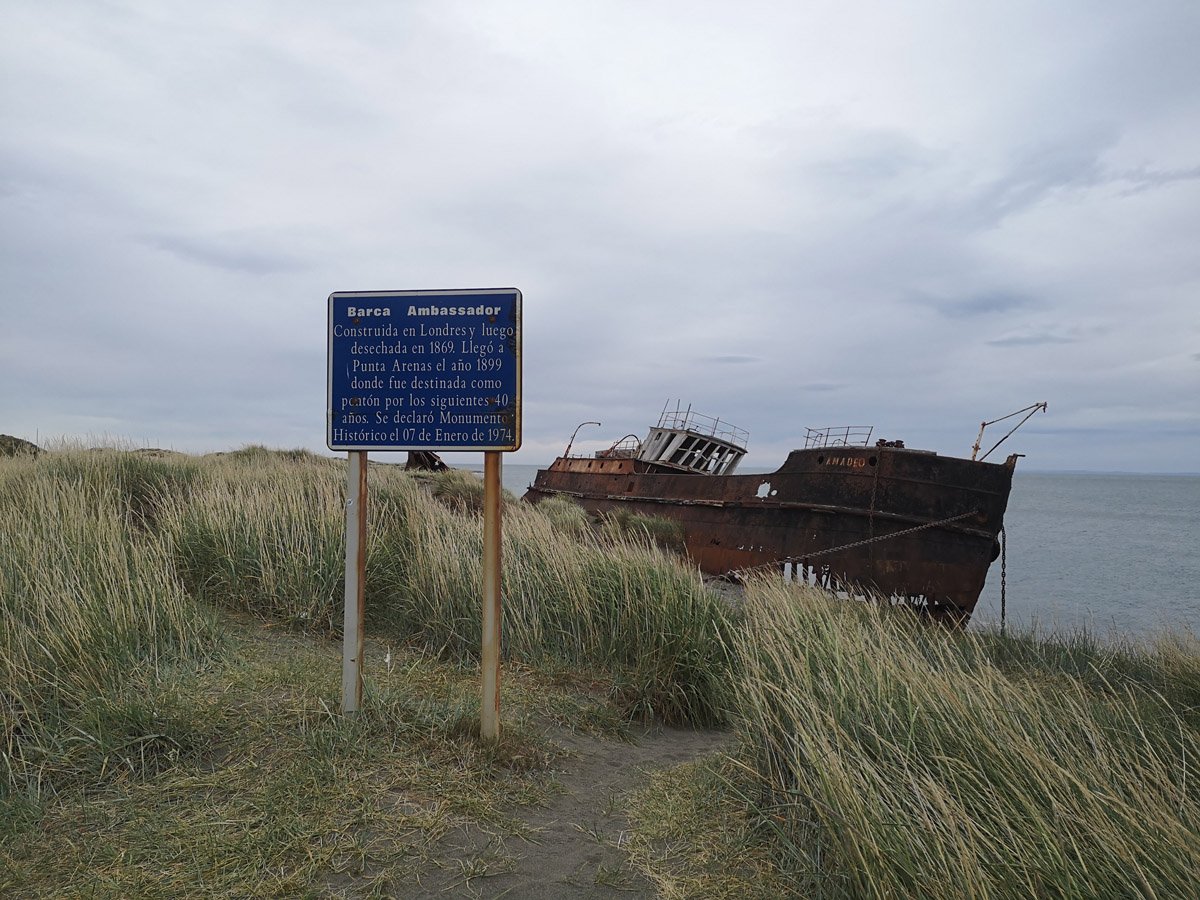 This ship was built in 1869 and was brought to Punta Arenas in 1899 where is operated for 40 years and ended its service life here. In 1974 Chile made this a historic site.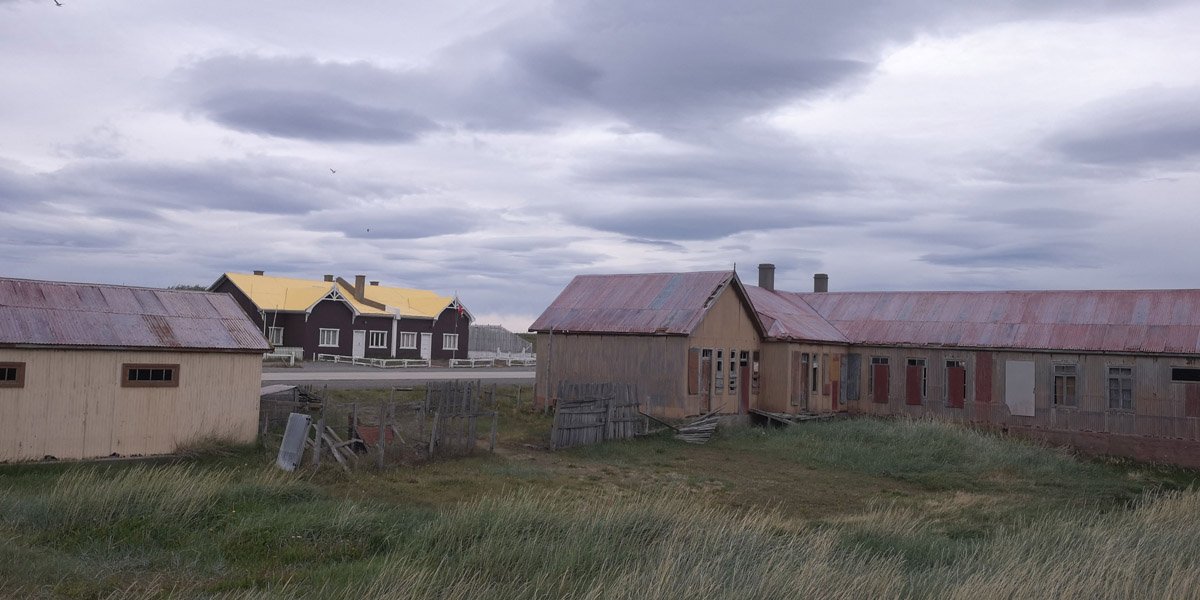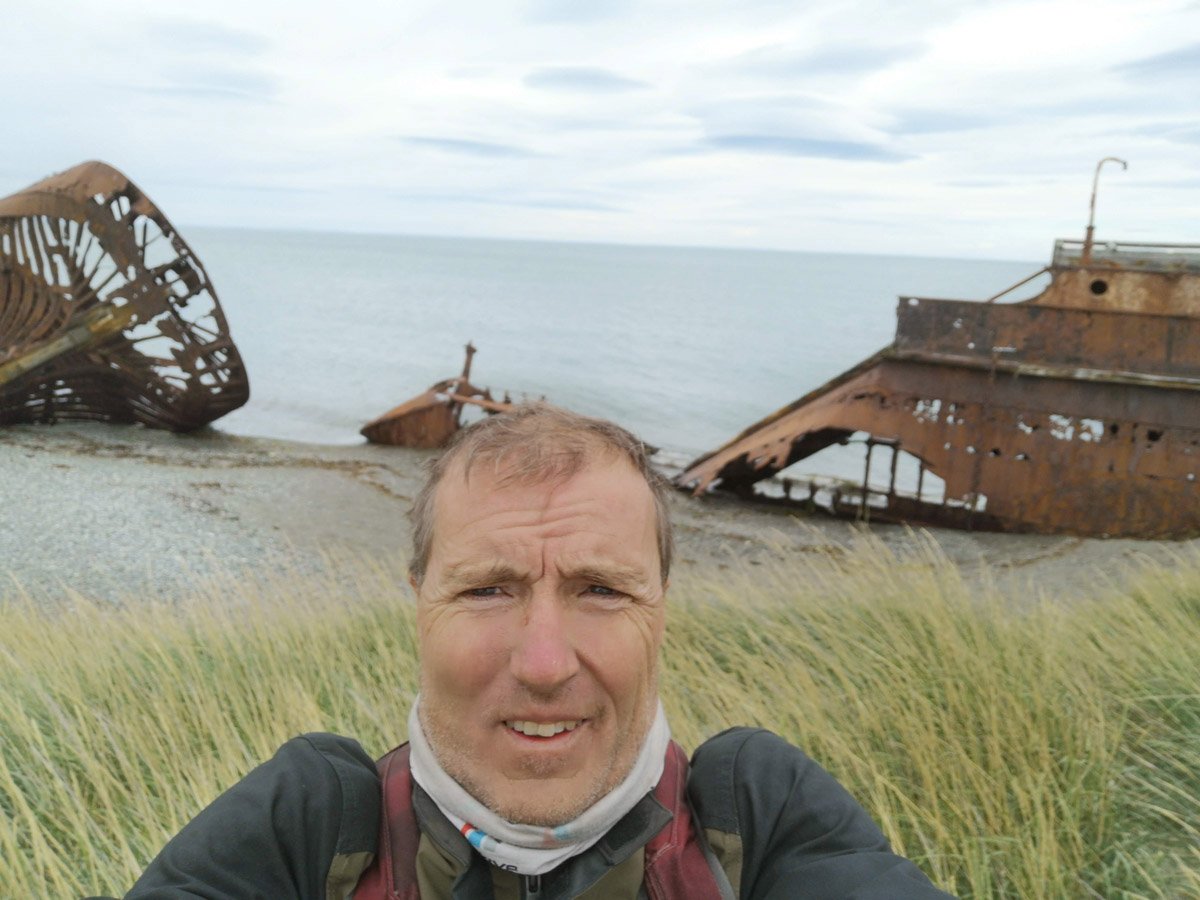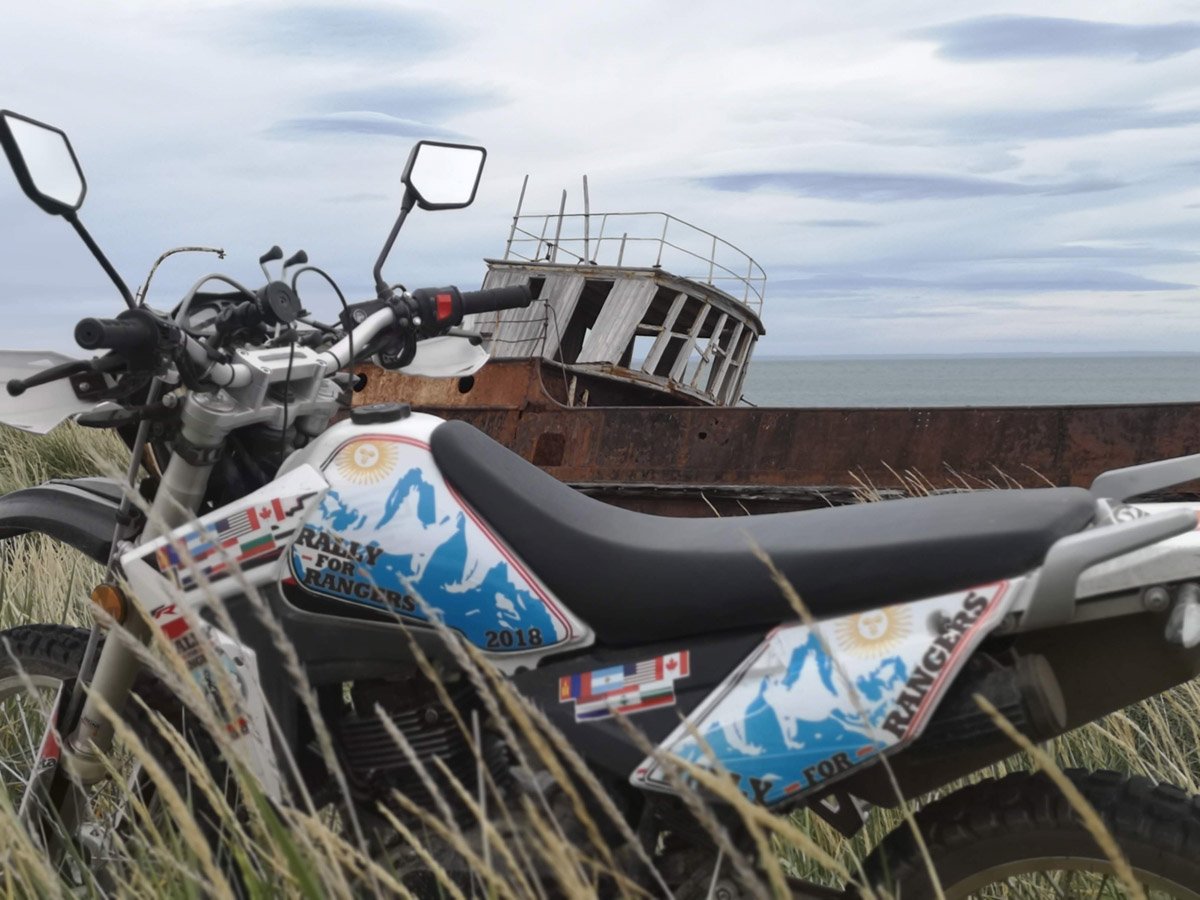 My bike just off the roadside with the old boat resting on the shore of the Strait of Magellan.
From here we had to turn back toward Punta Arenas and without seeing a map or knowing the area, I had no idea how far we had to back track. As it turned out, we had to go back 90 km, almost to Punta Arenas where our day started and then we still had 200 km to go on route 9 so it was a long time on the pavement that day. As mentioned above, I appreciate the effort that was made to get us off the pavement that day and the time we spent off-road was arguably the best off-road ride of the trip. The backtrack was the price we paid for that time spent and the last few hours of the day were long, tiring and painful.
A bunch of years ago I broke my clavicle, which in my case, the bone was left to heal where the pieces overlapped and came together. This left me with a knot between my shoulder blades that was aggravated with road-riding this little bike, especially in the cold. I had to continually move my arms and shift my body to keep that knot loose and I had to distract my mind from discomfort. So I would work on song lyrics to occupy my mind. It was good distraction where I would put together lines in my head and then type them out on my phone when we stopped. I did this for days, I would get tired of what I came up with and quit only to return to the ideas again when the pain in my shoulders became annoying. That evening while spending time in the hotel common room, talking about our day we all confessed the tricks we used to occupy our minds. I wish I had a recorder on at the time because many bizarre strategies came to light and many laughs.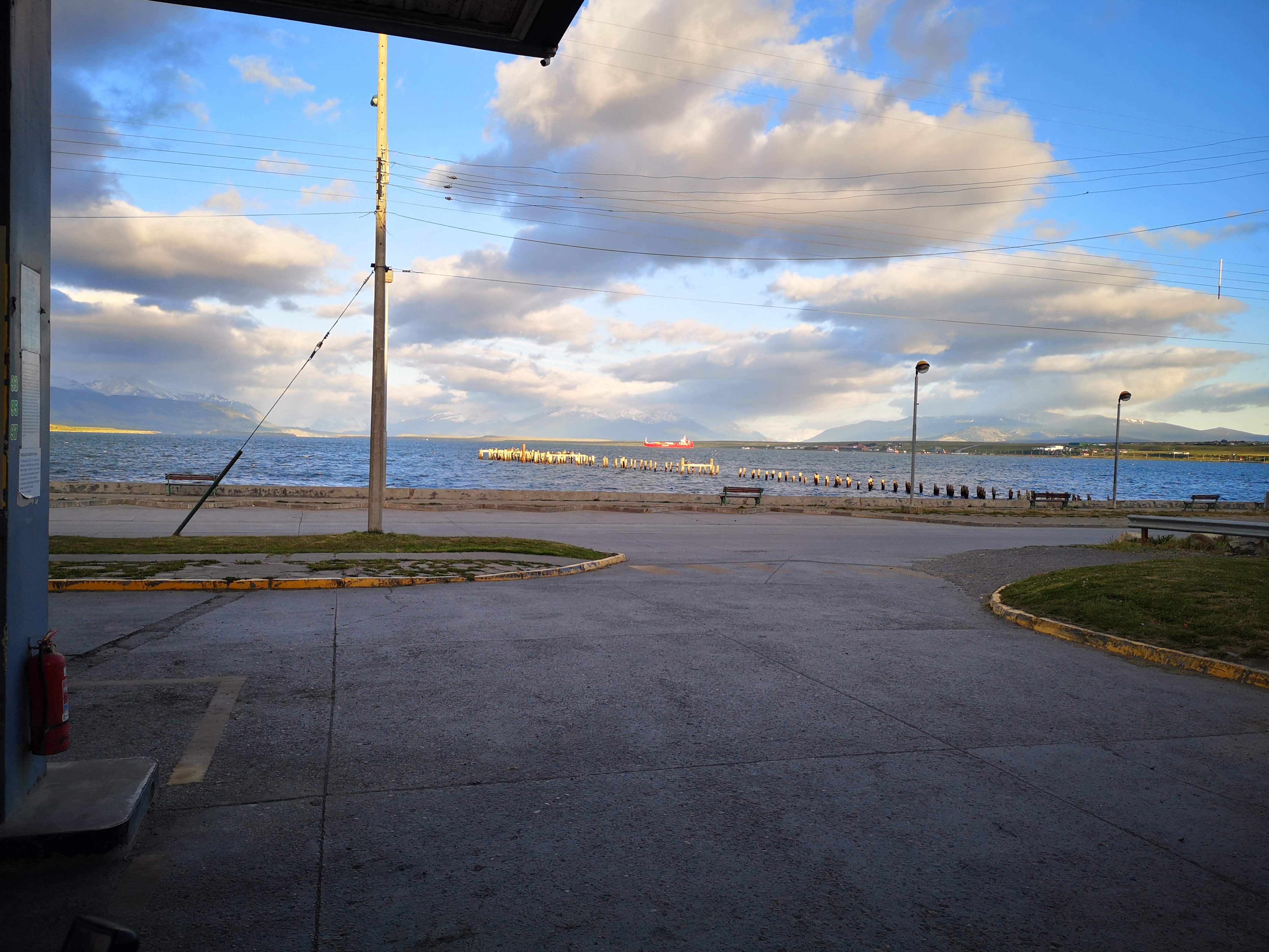 We finally made it to Puerto Natales after another day of struggle and as usual, our daily destinations never disappoint. We spent two days in the awesome little town down near the bottom of the world and I would have liked to have stayed.
---