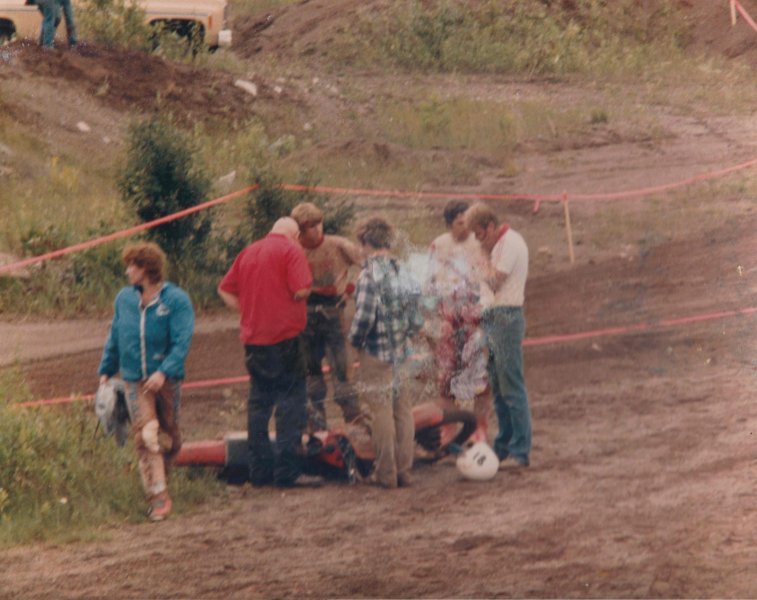 Being Mike's brother and close to his age, we were in separable growing up. That being said I was there for nearly every event that occurred around him in those days.
The following is my account of the days surrounding the "My Favorite Photo" story.
Mike's recollection and telling of the story is surprisingly accurate. What to expect from me will be loosely based on these events and embellished as required.
There is a back story to why we were all at the cabin building a new sauna and that story will have to come from our older brother Jim. If you can't figure out what happened to the old sauna, I'll give you a hint. The area preparation for the placing of the footings and stringers of the new sauna consisted of picking up nails and putting the wood-burning wood stove off to the side. Ya it's exactly what you're thinking, poof.
To set up the night before Mike's favorite photo. Some extended background is required.
The four brothers also have a sister, and like the four Cox brothers, her awesomeness is renowned throughout our hometown area and beyond.
During the summer of Mike's favorite photo Cathy, our sister, was on the town "Sports Days" Committee and suggested we organize a home town motocross race. Under Cathy's tutelage we presented a proposal to the Sports Days committee to hold a motocross race locally and put up a large enough purse to draw more and advanced competition. The committee jumped at the idea, a purse was delivered and history was made.
Cathy took care of the marketing and Bernie took care of building the track. Bernie enlisted his good friend and local logging contractor-entrepreneur Glen Boyda to bring in the heavy equipment and build the track. Bernie organized large work parties - all the brothers included and a first rate mx track was born.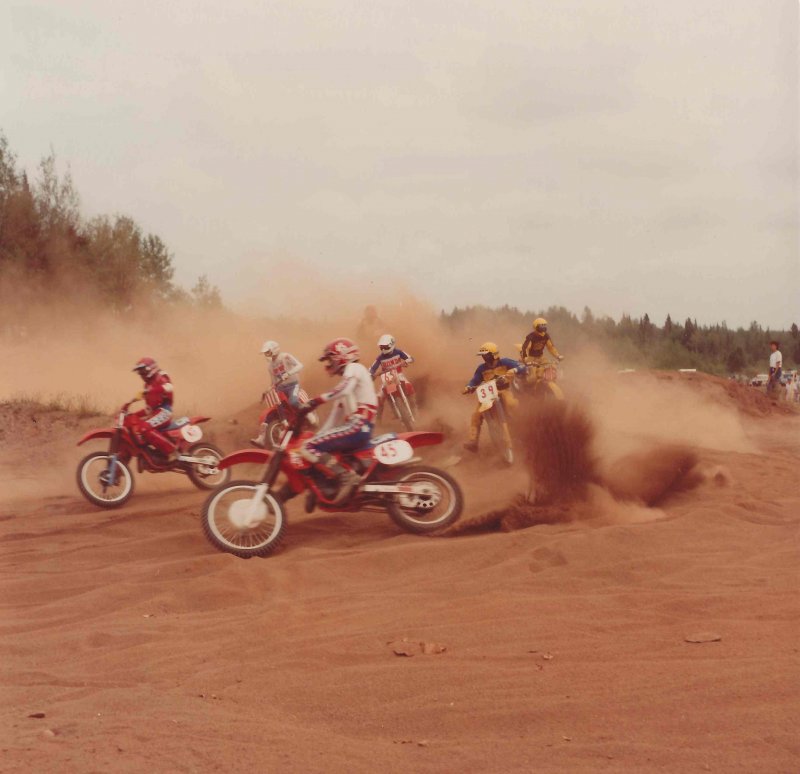 This photo is actually 1984. I am not sure who is in it but it is a great photo from the Charleston races of the 1980s.
I must mention that on the day of the mx race, Bernie and his friend Dave Kerr competed in another Sports Days event - grueling 5 hour canoe race. I believe they won the canoe race and iron-man Bernie just made it to the gate drop (bungee cord start) on time for the expert class where he finished on the podium.
As you can imagine, with the stress of working, building a track and practicing, Mike and I did our bike maintenance late in the evening the night before Mike's favorite photo was taken. The night before the hometown race. As was often the case, the Cox boys were busy ensuring every one around them was ready and satisfied prior to taking care of themselves.
This race was a huge success. We drew riders from Thunder Bay, Fort Frances, Dryden, Winnipeg and many places close by. Atikokan was well represented by many local riders - most of whom made the podium in their respective classes - including all the Cox boys except the fan favorite, come from behind specialist, Mike "Madness " Cox. Sidelined by a most unfortunate maintenance error seconds after talking his typical come-from-behind lead in moto 2. I still feel bad for him today as I write about it. All in all the Atikokan boys took home the lions share of the purse that day.
This brings us to the day after the infamous photo we are writing about.
The comeback. The next morning Mike and I went to the Murillo fall fair and kicked ass. It was a double header race weekend. Kim Houde from Winnipeg lined up with the Harleys on the flat track course and showed them how it was done until he high sided and his bike disintegrated. It was a spectacular crass - dust and plastic flying everywhere. Carnage of epic proportions. Mike put on a spectacular pass for the lead and never looked back - redemption was complete, you could see on his face. For me it was another pin-to-pin win.
That wraps up my version of events surrounding Mike's favorite photo. I hope I have managed to keep you engaged and entertained.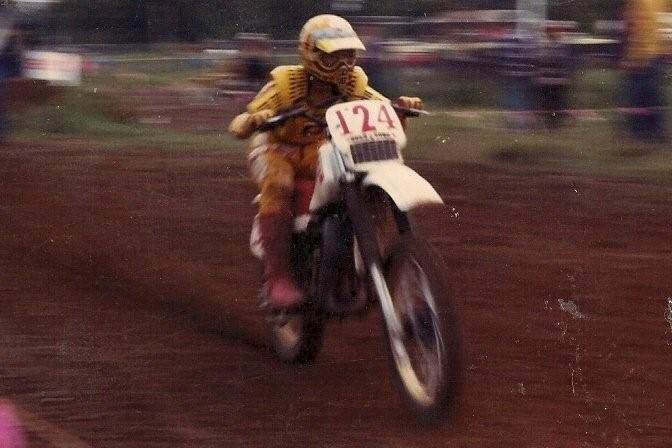 (Editors note) This is a picture that I borrowed from PulpMX along with the caption that accompanied it. Alan Legacy was legendary in our area... nice to find a picture of him and his words. Alan was the only guy to pass me that day but he crashed out. By the end of the 1983 season, he smoked everybody that he lined up with.
(Alan's words) This was in 1982 Thunder Bay, Murillo Fall fair. I just bougt this YZ 125 the day before and had no time to test it, the bike worked perfect and I went 1-1 in the 125 Junior class. There was this huge double jump and very few riders were attempting to clear them and it DNF many including both Drew boys (I witnessed both crashes) Kim Houde from Manitoba who only had one eye (he was awesome) he went 1-1 250cc and 1-1 500cc, smoked every expert that day, and along with one other rider cleared that double all day without fault. Who was the other rider? take a guess. Modesty eh, ha ha!-Alan Legacy
---