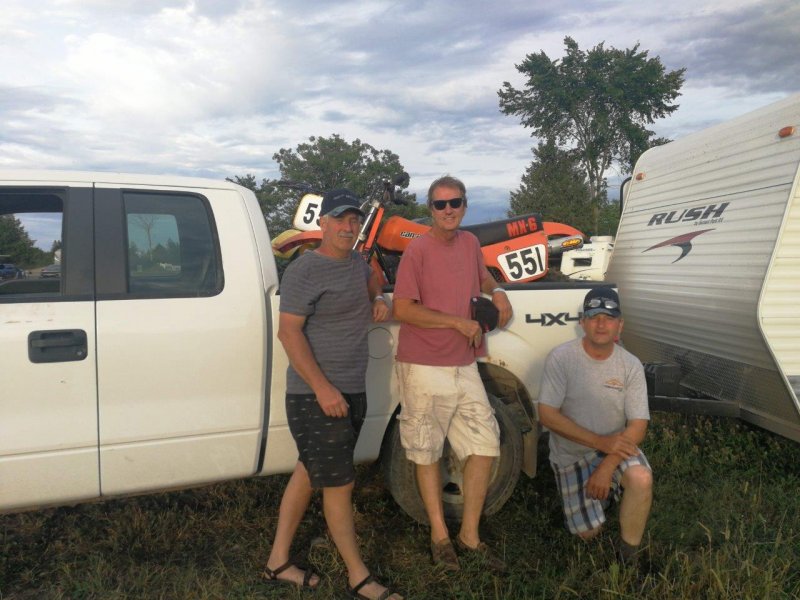 The back-story
In September of 2017, I attended a vintage motocross race at SandDelLee in Ottawa. The event was organized by John Lebrecht, a Canadian motocross legend from the early 60s, and Johnny Grant of MX101. The event was well attended. We had about 25 bikes on display and 10 or 12 racers lined up at the gate. John even managed to talk Johnny and the MX101 boys into making the race a cash payout, just like back in the day.
There seemed to be a bit of a dark cloud hanging over SandDelLee that day. There was a slew of ambulance calls which eventually led to the cancellation of most of the second half of the race day. It wasn't the vintage boys getting hurt though, we were very sensible, heck, we didn't even need a defibrulator. I won the race, took home the prize money and got the holeshot award to boot. The rest of the boys battled for second and the race was a real nail-biter. We were all disapointed when the second moto was cancelled but we had a great day getting to know eachother, bench racing and actually banging bars too.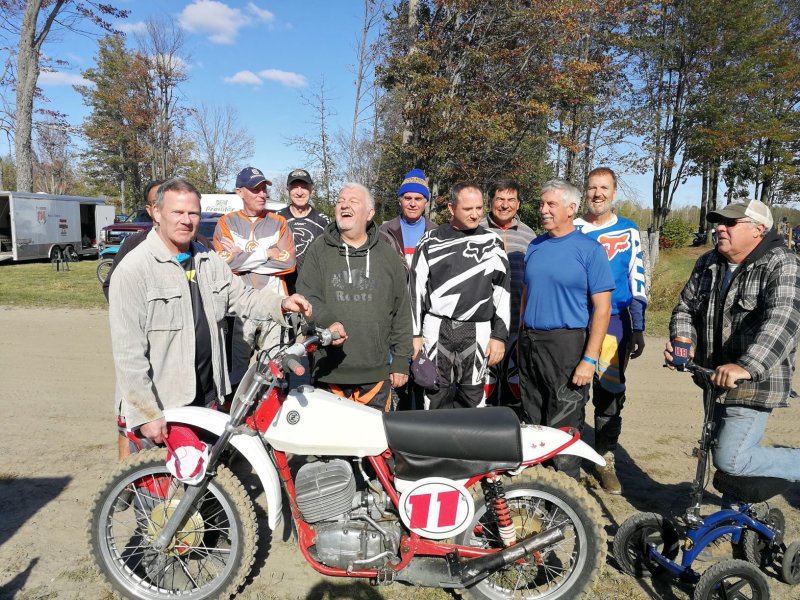 The vintage racers at SandDelLee last September where a good time was had by all. The best part for me was spending time with all these fine folk.
Rewind to the the day I bought my 84 RM250. I went home and found some facebook groups. I wanted to engage with the Vintage Motocross community. I found the goup "Vintage Moto-x Canada" which is very active and has over 4000 members. The group was founded by Lee Davidson and his home track is Burnt River Offroad Facility. I posted a picture of my score and Lee said "Come out to Burnt River and race that thing!" and with that comment, the seed was planted, I would be going to Burnt River to race that thing. Last summer slipped away but a couple weeks ago Lee began a campaign on his facebook group to recruit some vintage enthusiasts for the July 21st race.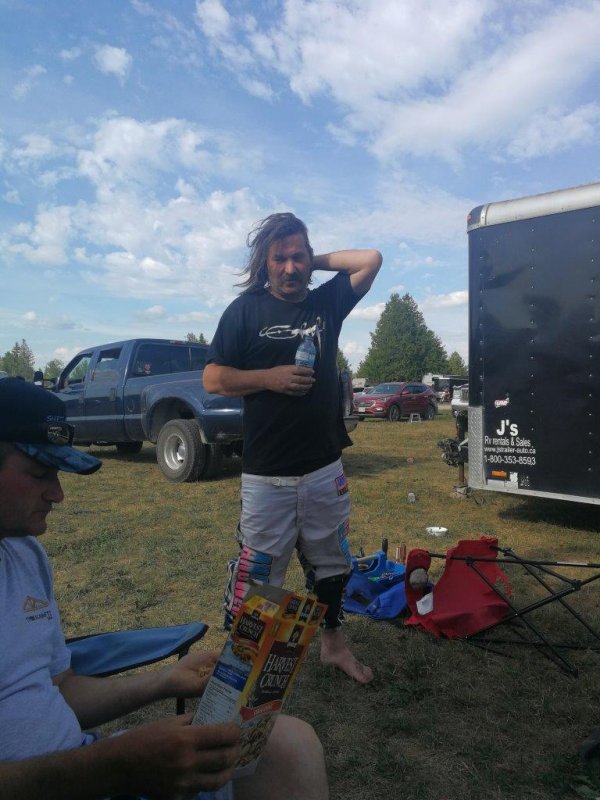 Lee Davidson, founder and curator of Vintage Moto-x Canada facebook group. Thanks to his endless enthusiasm for vintage motocross, a bunch of riders from around the province showed up at Burnt River.
The race report
Using the facebook group I was able to reconnect with friends I had made at the SandDelLee event. Steven, Rochelle and Ian from the far eastern end of the province picked me up at my house in Dunrobin on Friday afternoon. Steven and Rochelle bought themselves a very nice toy hauler and with two bikes already in the back of the truck, they had room for my two bikes and Ian's in the trailer. We loaded up, jumped in the truck and just to add some drama to the trip, the engine wouldn't start. They were having some problems with the fuel pump and sometimes it just would not start. We gave the truck some time to think about it's behavior and indulged in a fine malt beverage on the deck. It seems that is all it took, and the Ford came to life and we headed off to our destination.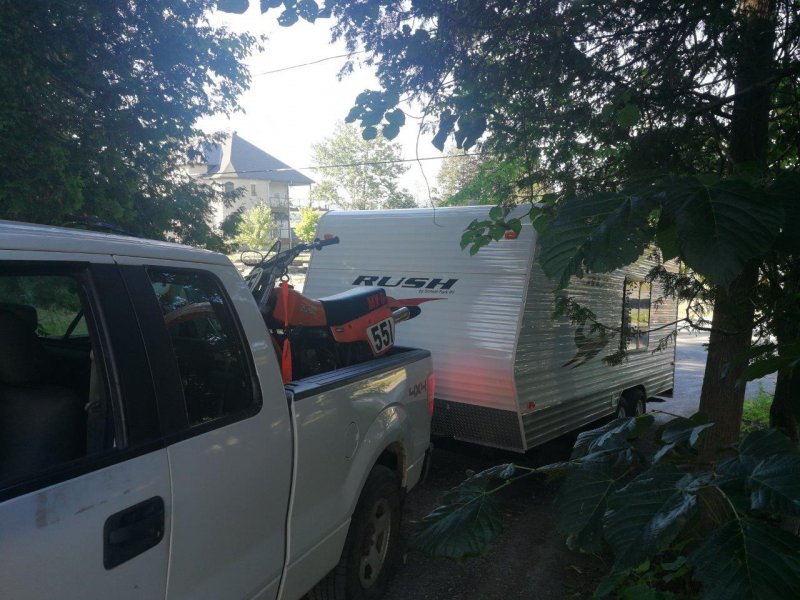 My driveway is a bit tight, but we managed to get loaded up in no time.
The trip was long but pleasant and uneventful. We arrived at Burnt River just after 10PM, well after dark and parked beside Lee Davidson. Lee headed into town to eat, we unloaded and set ourselves up for the night. Fatigue and mosquitos kept us from enjoying a campfire. We got to bed at a decent time and felt rather rested in the morning.
Everything got underway quite quickly on Saturday morning as it always does on race day. We did a quick track walk, had some breakfast and then registered for the races. I am always a bundle of nerves on race day and this day was no different, I felt more like going home than signing up. I signed up for the "Vintage" class and the "+50" age class. For the plus-fifty, the plan was to my ride trail bike. Ian and Steven signed up for "vintage" and later regretted not signing up and racing again with me in the plus-fifty. My biggest gripe about going to the races is having to spend an entire day, vulnerable to the elements and getting limited seat time on the bike, so I always sign up for two or more classes.
Practice at Burnt River is a fairly casual affair- as soon as riders meeting is over, you just head out and do some laps. I went out first on my trail bike. My 2017 Beta 250RR is new to me. I have only ridden it a few times and this would be the very first time spinning laps on a motocross track. This bike is a beast with a great engine, a six-speed transmission, headlight, tail-light and a license plate. Don't let the plate fool you, this is a full-fledged, light-weight race bike with a hydralic clutch, pinky-finger brakes, electric start, and top-shelf components. It is a trail bike though so the suspension is soft.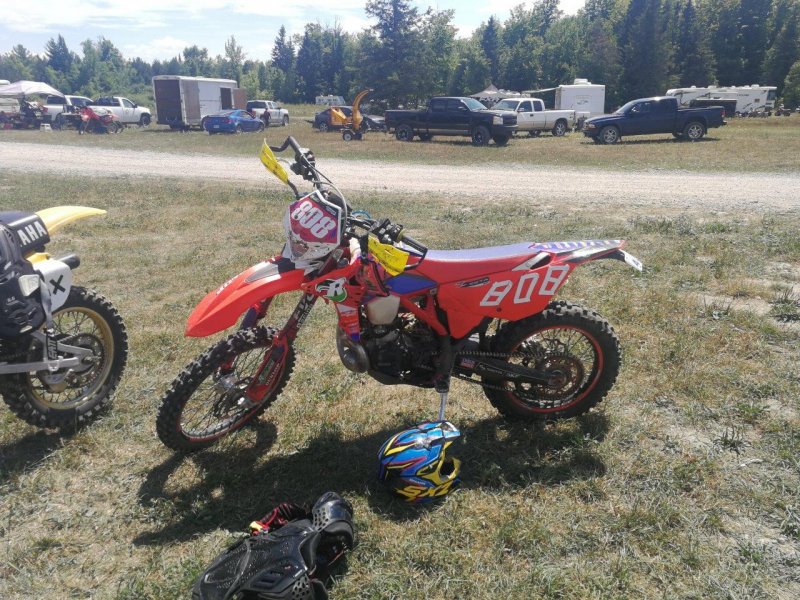 My 2017 Beta. This was the only one at Burnt River that day
I did three laps on the Beta and felt right at home on it. I found it flew a little strange at first and the landings were hard due to the soft suspension but I never found any issues with it on the track. It was actually pretty close to perfect for this guy.
After a short break, I did a couple laps on my vintage bike. My 1984 Suzuki RM250 is a true survivor. While is may not look new anymore, every bit of it is there and in perfect working order. It handles well, the power is excellent and the Full Floater suspension works great. The only place it lacks is in the braking department- some who have ridden it say it has no brakes. I beg to differ, you just have to pull a little harder. Ian and Steven missed out on practice due to a miscommunication, they only managed to get in a single lap. Steven was also preoccupied with his truck, it failed to start again in the morning so a transportation dilemma was unfolding.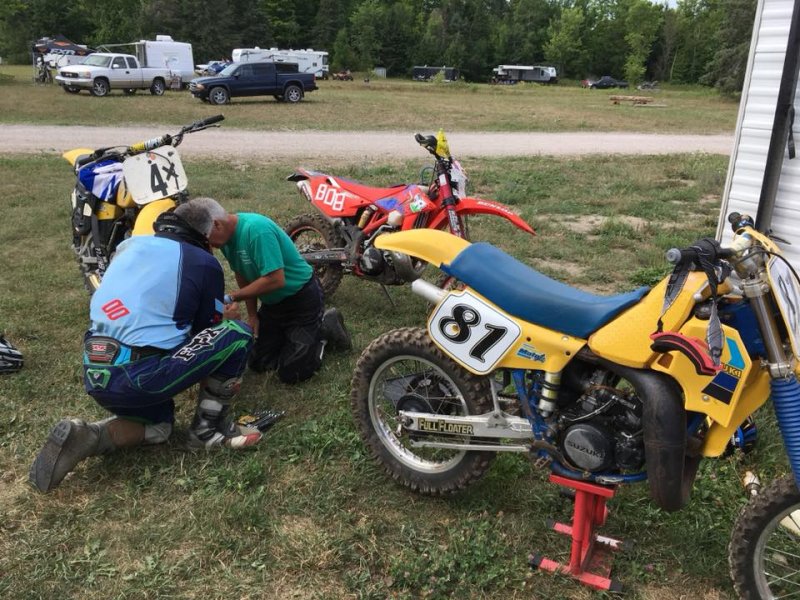 My Suzuki and B0B the Beta in the background. Ian and Geoff working on Ian's 1981 YZ250.
The race order was posted and "vintage" is up 6th out of 13. Plus-fifty is up 12th so I have plenty of time between motos. We headed down to the line and I picked a gate on the left side of the doghouse. The 30-second board went up, then went sideways and we were off. I didn't have a great jump, but I got on the gas hard and worked my way up to the front as best I could. I had a pretty hard run-in with another rider who turned out to be Lee. I changed my line and cut him off, at least that is his story, and it sounds about right. I got the upper hand of that bump and jumped into the lead. From there I got away from the pack and rode alone up front until the checker flag. At one point I did see an old Honda catching up to me. I had heard that there was going to be a young pro riding vintage, and that is who was gaining on me. From the gate, he started back in the forest to give the rest of us a fighting chance. While he was gaining on me for a bit, he never did finish the race due to a breakdown.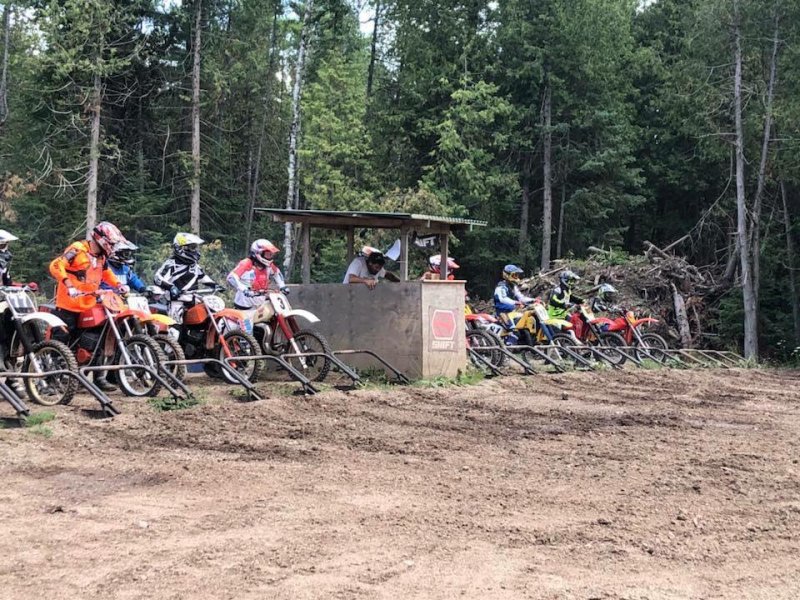 This is the start of the first Vintage moto. We had 14 bikes on the line including several big open-class bikes and a number of 125s.
Back at the pits we gathered and talked about the race. Lee didn't finish, his gas tank split open. The pro rider blew out a rear wheel, Ian lost his front brakes, Steven lost his back brakes, Brent's kill-switch grenaded and there was more attrition that I am not recalling. I commented that all I had to do was show up at the line for moto-two and I would have the win. Vintage racing is fun, but it can be a challenge to keep the old bikes running.
Start of the first moto.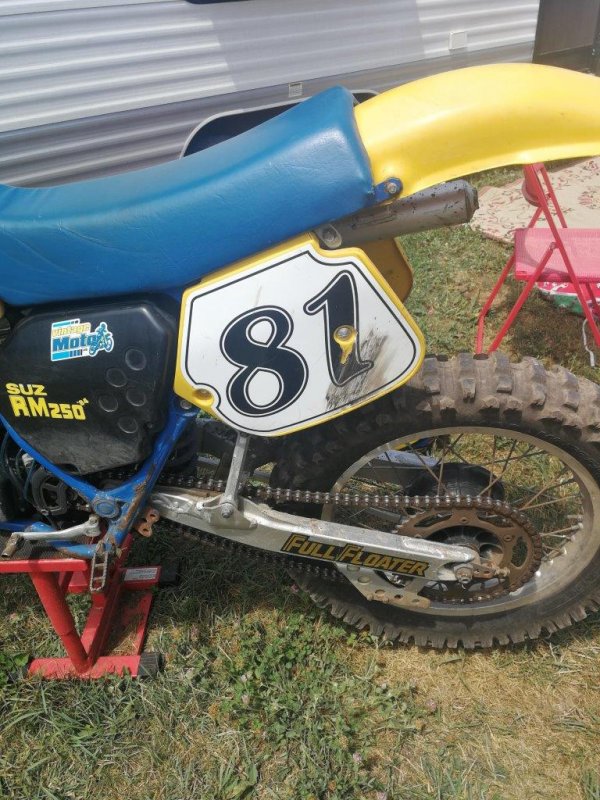 This is Lee Davidson's tire mark. I wandered into his line off the start and we came together. I got the nudge at the start for a great holeshot.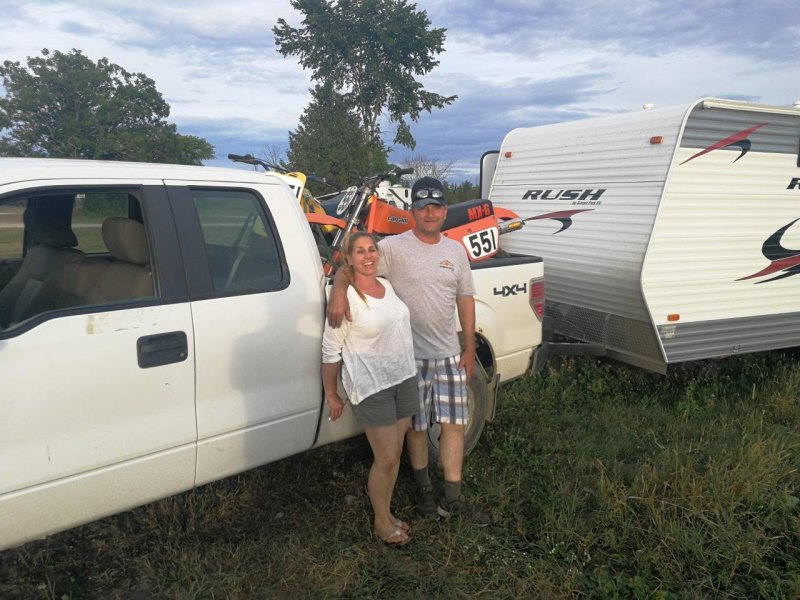 Between motos, Steven worked at getting his truck working, eventually he did get it fired up. He drove it to town for gas and left it running for the rest of the day. Rochelle volunteered to be a flagger and spent the day helping to keep us all safe.
Before too long, it was time for my plus-fifty race. I made my way to the line and started from about the same place. We had 9 bikes on the line including a couple old RM125s from the early 80s. I had a the only street-legal bike and the rest were modern two and four-strokes. Geoff started off beside me on his two-stroke Husqvarna and we both got the jump on everyone. After the first turn, I went to the lead and stayed there until the checkers. One fellow on a KX 450 kept me honest, I had a good lead, but he did a good job of hanging with me. The race was pretty long, 5-laps and I was tired by the end.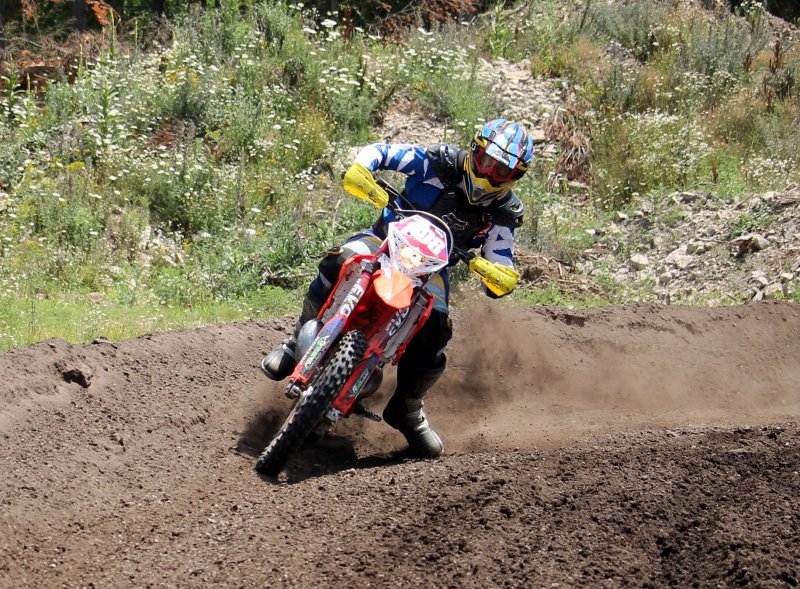 This picture was taken during one of the plus-fifty motos. Charlie Cartmill posted a couple hundred photos on Facebook, something for everybody. Thanks Charlie!
The day was grinding on, we were all having a blast. Steven and Rochelle packed enough food for us all and we had a small lunch and some water to stay hydrated. Soon it was time for the second moto.
Ian and Steven fixed their brakes, Lee switched to a Honda, the young pro was out, Brent tossed his kill switch and Geoff went home. We met at the gate for round two. This time around though I was not so lucky. I was slow off the gate and had to use a different line. When I got to the first turn, I was in a good position to throttle my way to the lead but Lee had other plans for me. He cleaned me out and sent my sorry ass to the ground. Payback for for the first moto, though not intentional. I was separated from my stalled bike and as I picked it up and started it, I watched the whole pack race away without me. A lap later I was in second place. Another lap after that and I was reeling in Brent who was far in the lead. By the third lap I was in the lead and Brent kept me honest 'till the checkers. Ian finished behind Brent in Third place and Steven in fourth. A pretty darn good result for out-of-towners.
This is the start of the second moto. I am the guy left picking up his bike.
Because Rochelle was flagging, we had to stay until the end. I had one more plus-fifty moto to run and then it would be time to put the show on the road. This time there was only four or five of us on the line. I got squeezed off the track on the start but I came back up through the inside line and bolted to the lead after the first turn. I pulled away from the pack and won my fourth moto in four starts. Not bad for an old guy.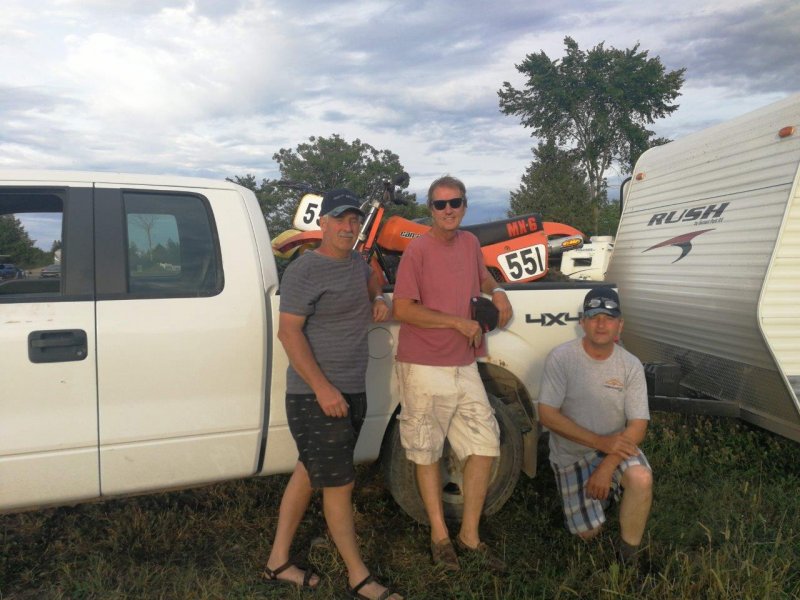 Ian, Steven and me with the forever idling Ford and two vintage bikes in the back.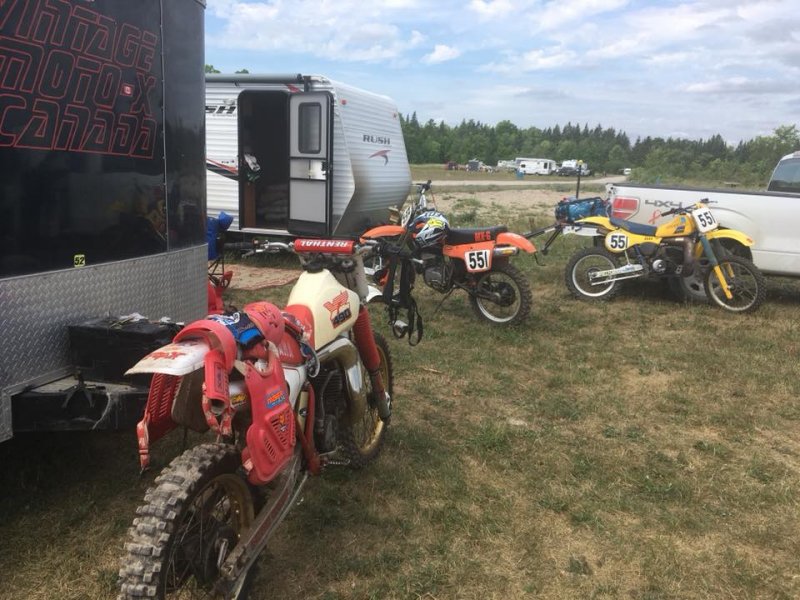 Steven's RM500 and CanAm 125 with Lee's YZ490 in the foreground.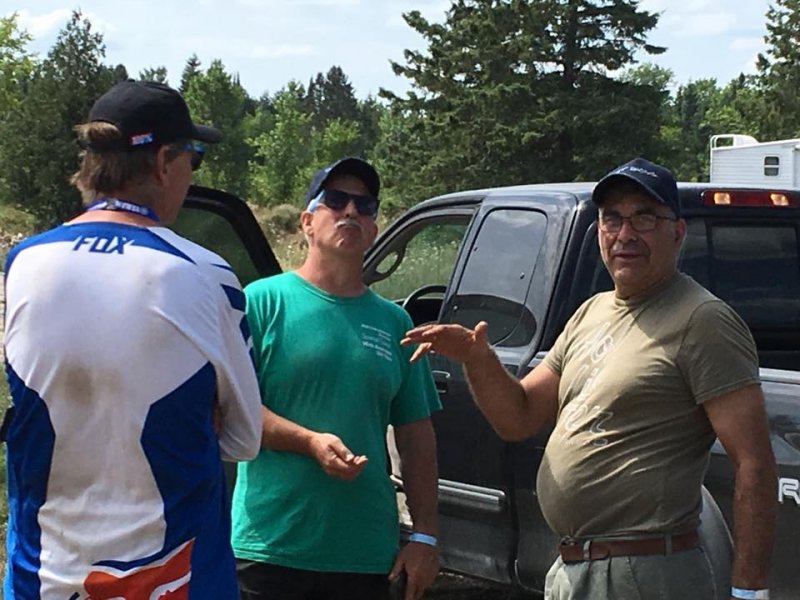 Ian and Geoff with me doing some bench racing. Ian bought his 81 YZ 250 from Geoff and Geoff now owns Ian's old Elsinore. Strange how the world works.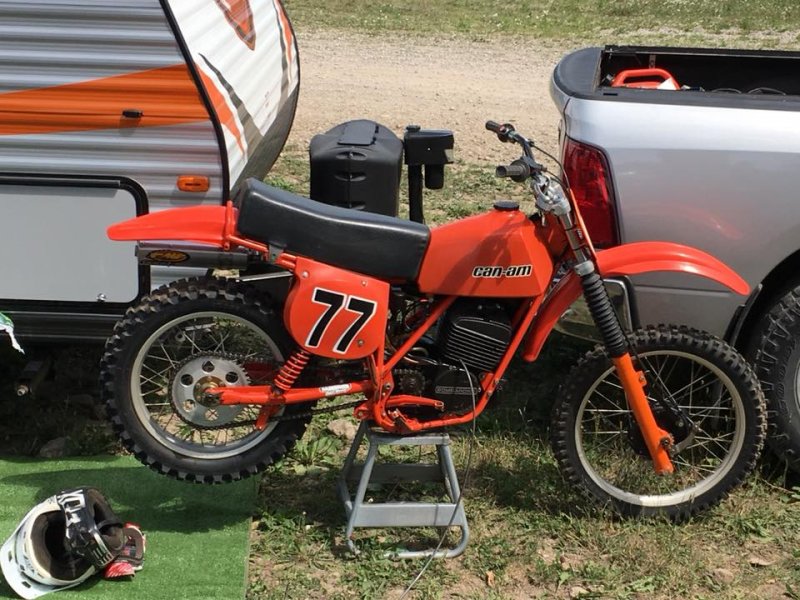 CanAm bikes are surprisingly popular and effective vintage weapons.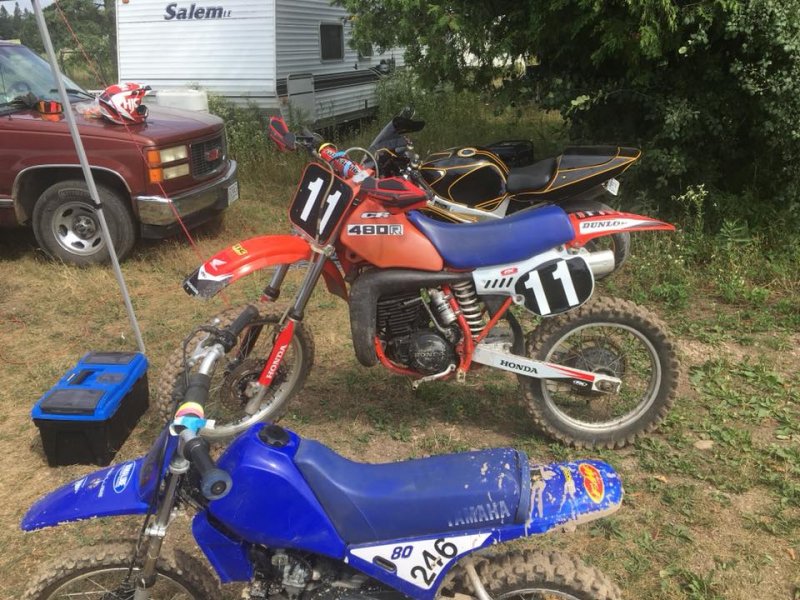 1983 CR480. I would love to have one.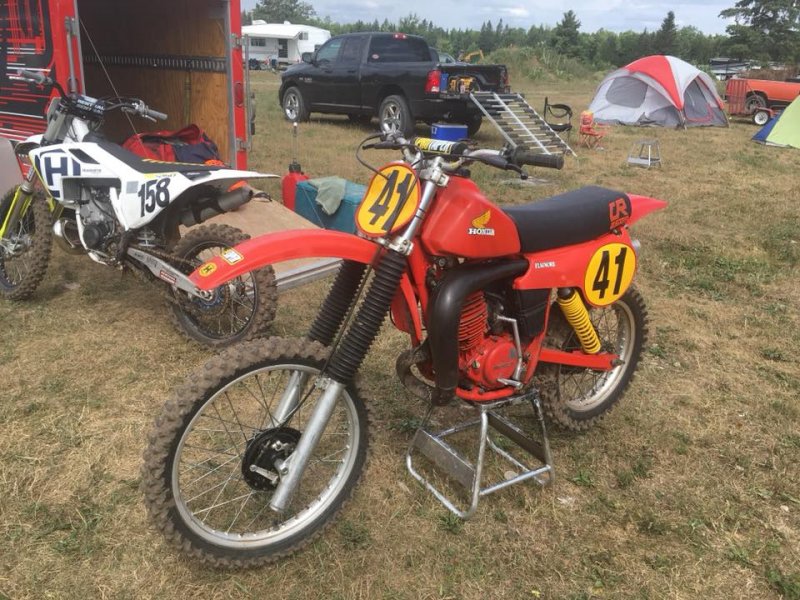 Geoff's Elsinore and his Husqvarna in the background. He left in the second half, but it was sure nice meeting him. He has 25 bikes in his collection.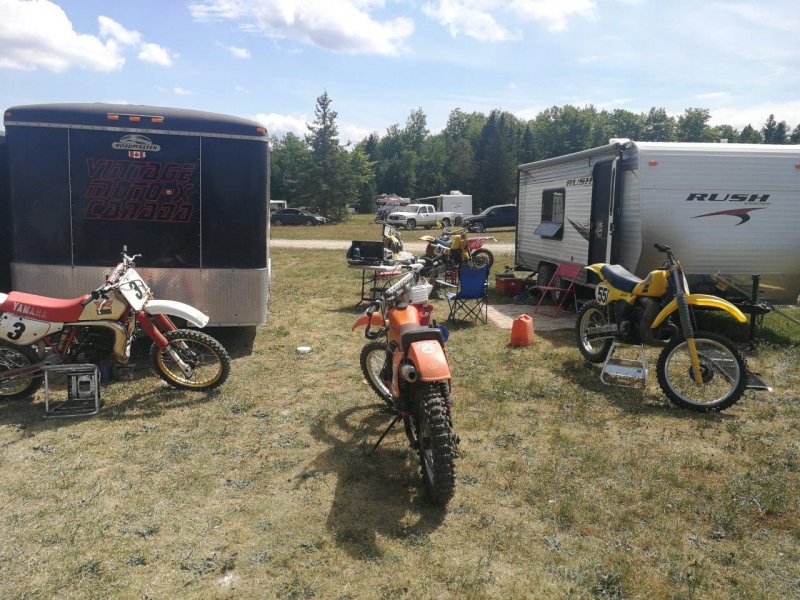 Our pit area. We never did put up our tent or extend the awning on the toy hauler. It was a nice day.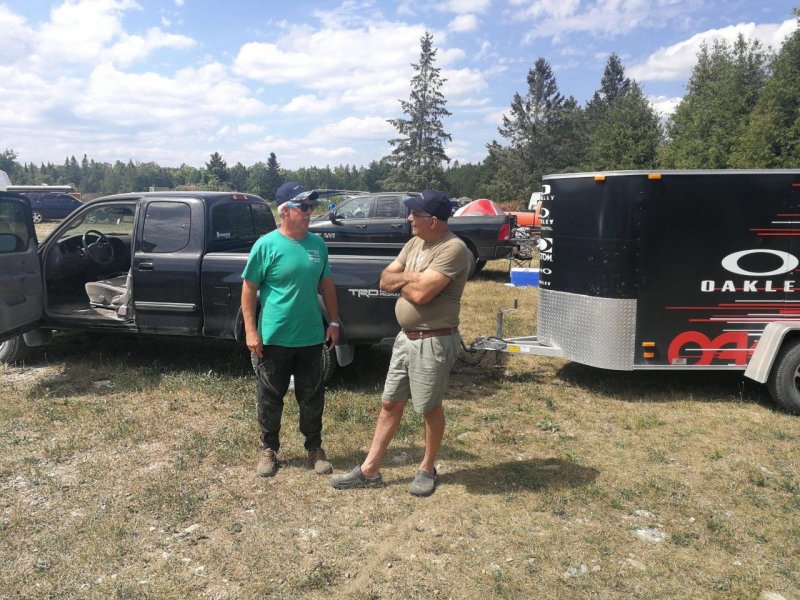 Ian and Geoff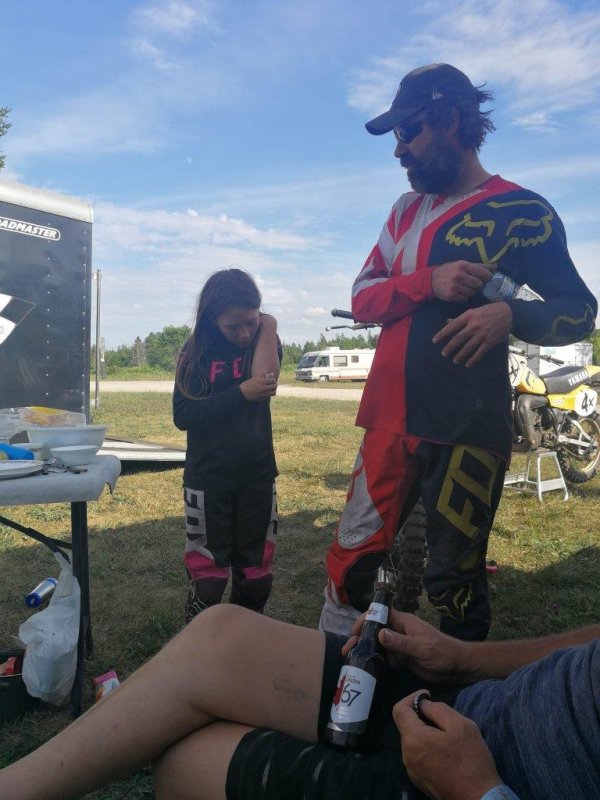 I never did catch the names. He is a vintage racer, his daughter (peeling off a band-aid) races too. He also had his son there racing in the Vintage class. His son was the young pro that was catching me in the first moto before breaking a wheel. I got into an argument with the young lady who informed me that her brother would have won the vintage moto had his bike not broken.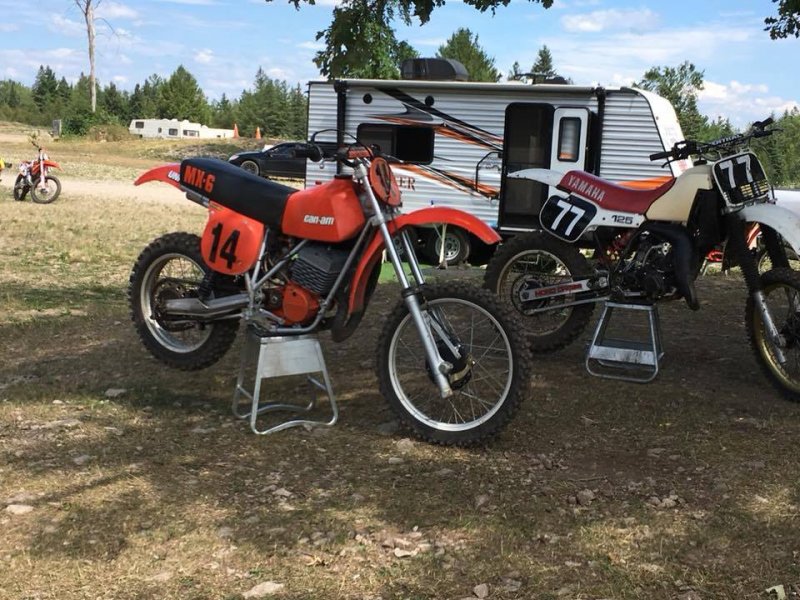 Bikes from the Sasquatch club. These riders came all the way from Niagara and they are coming back again.
The below photos were taken by Charlie Cartmill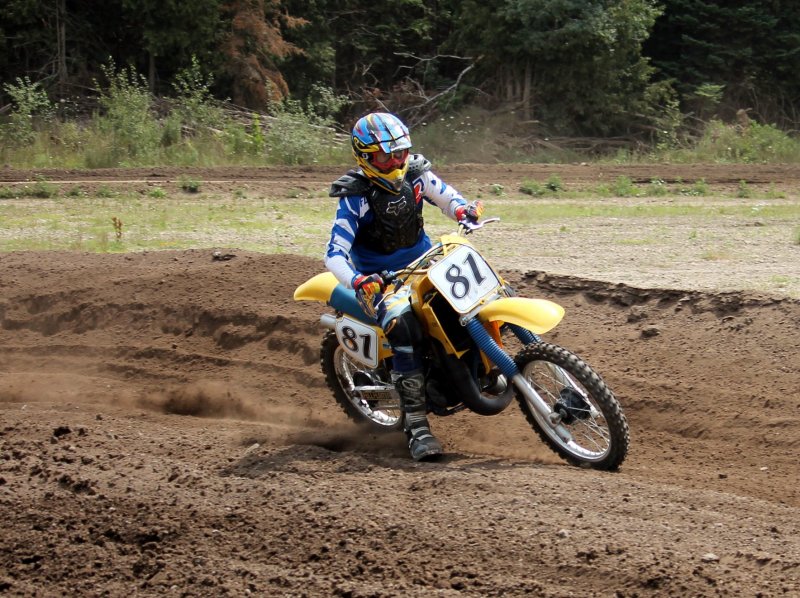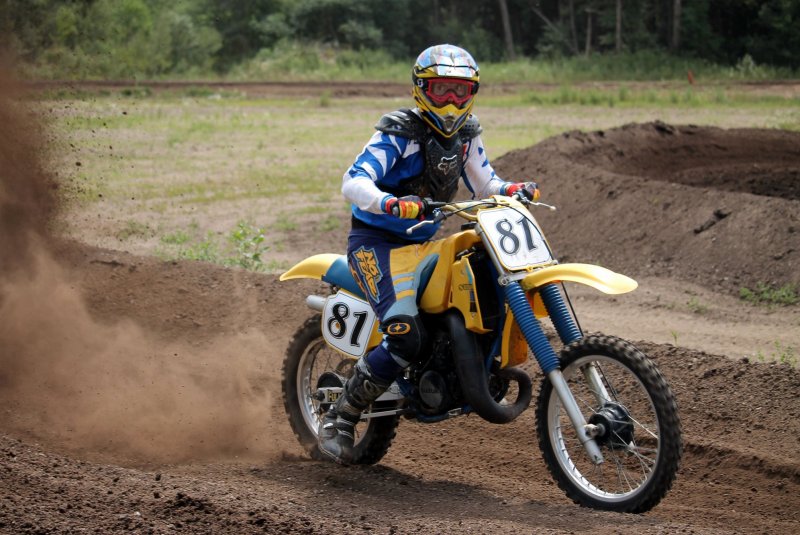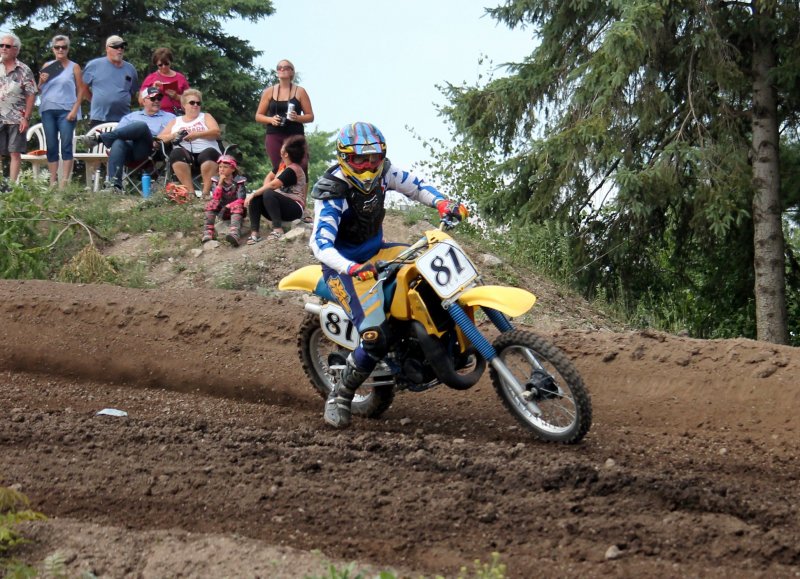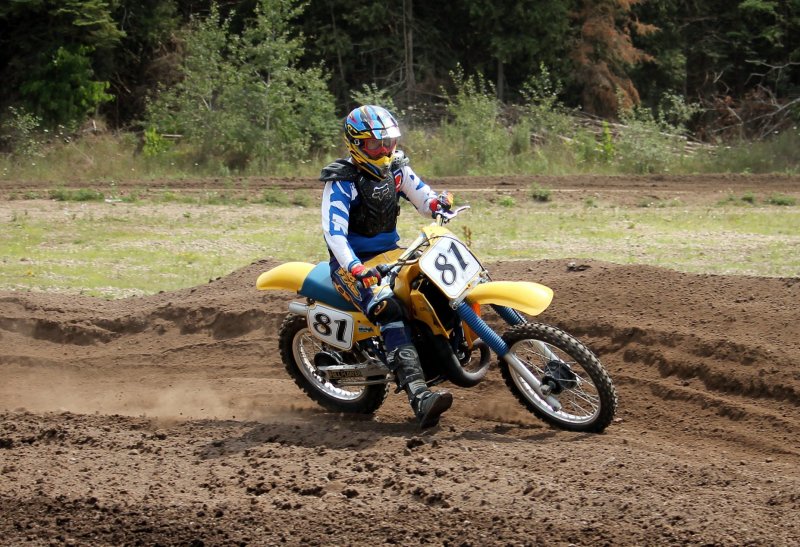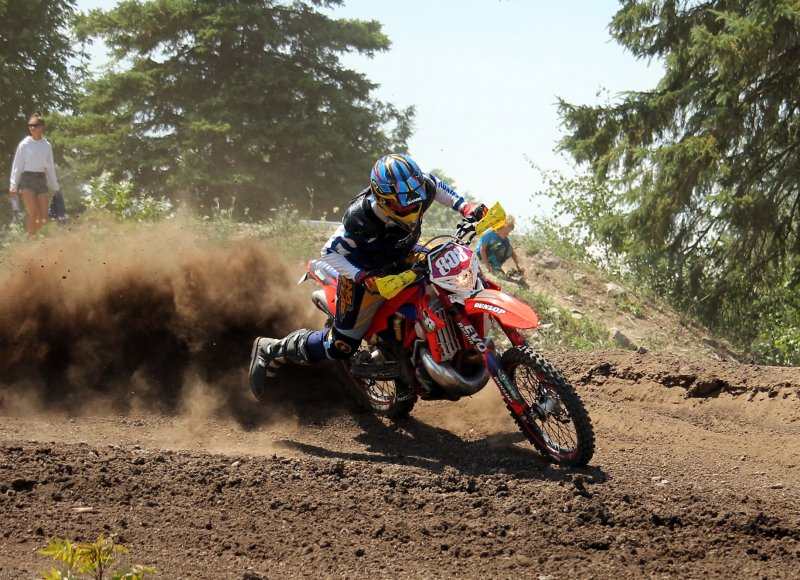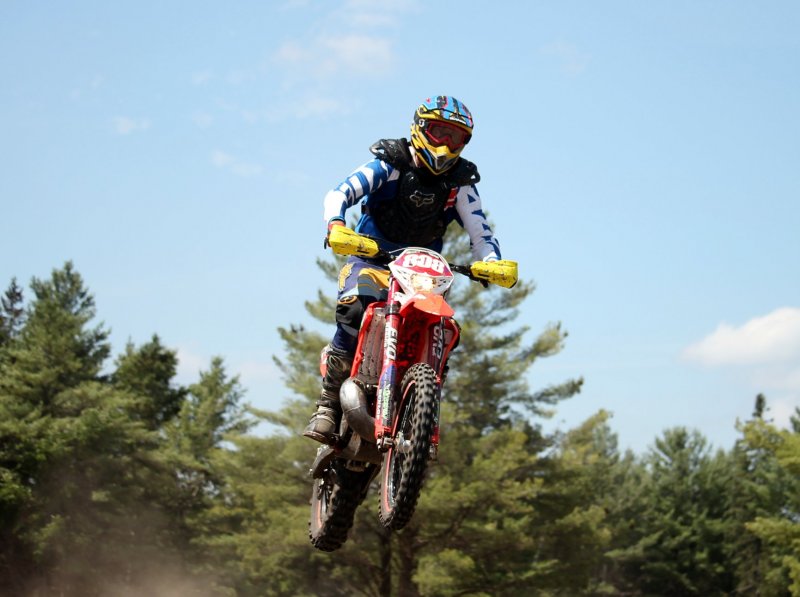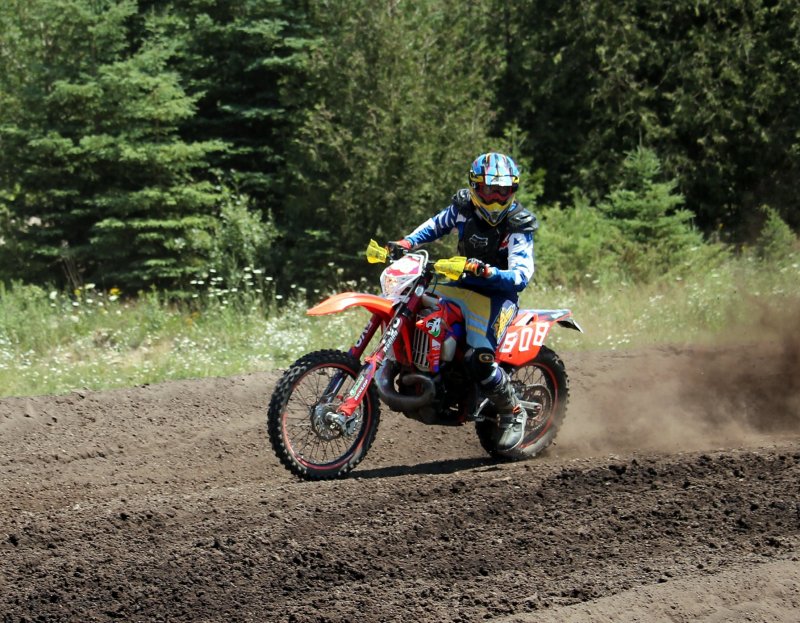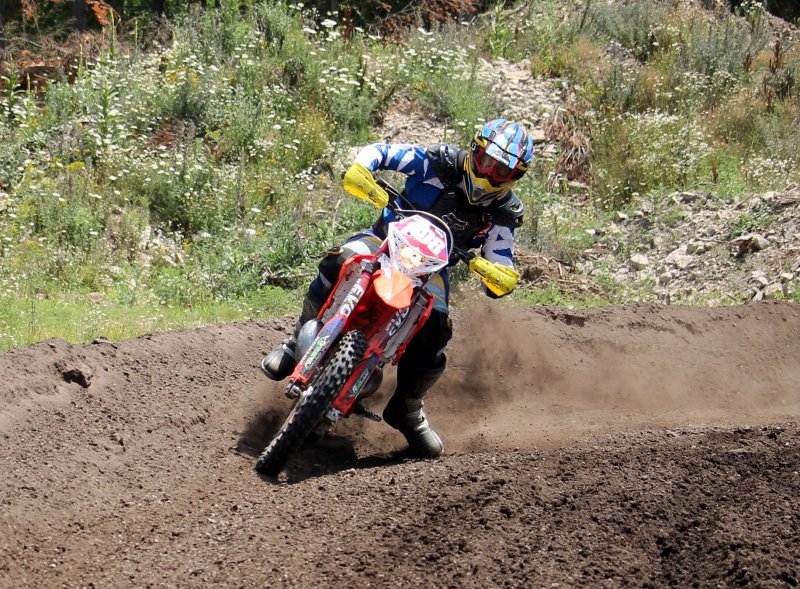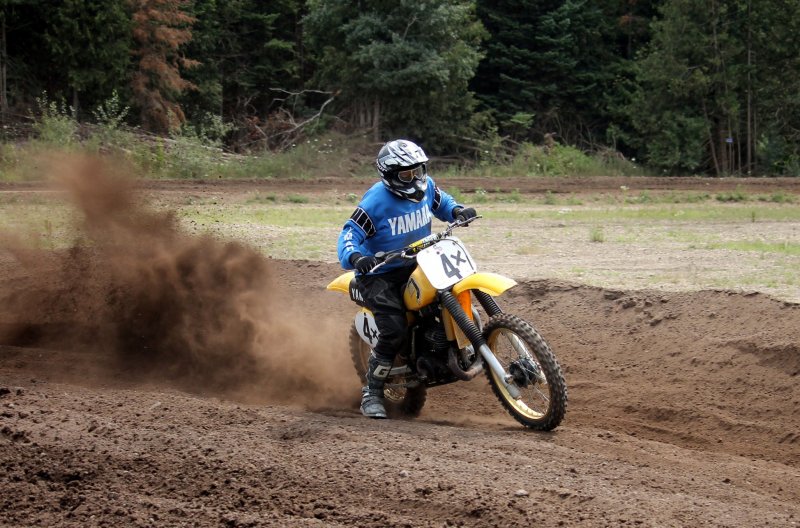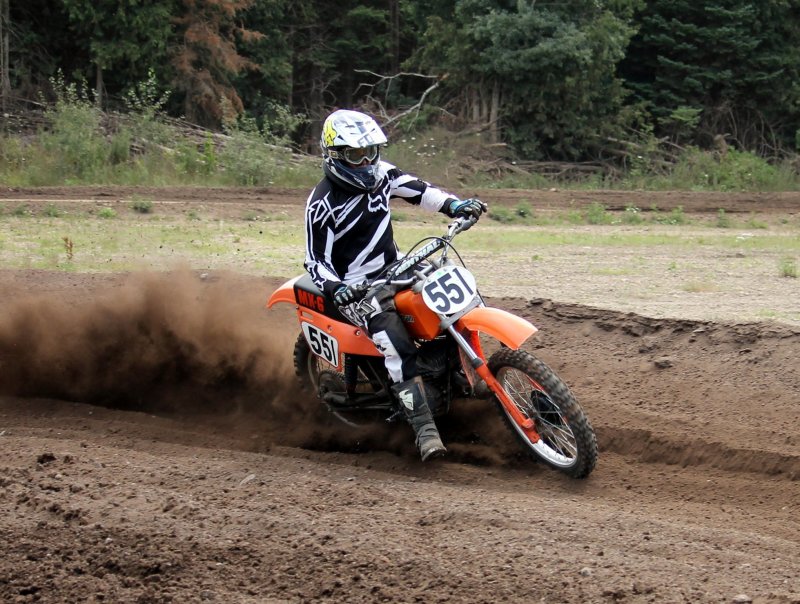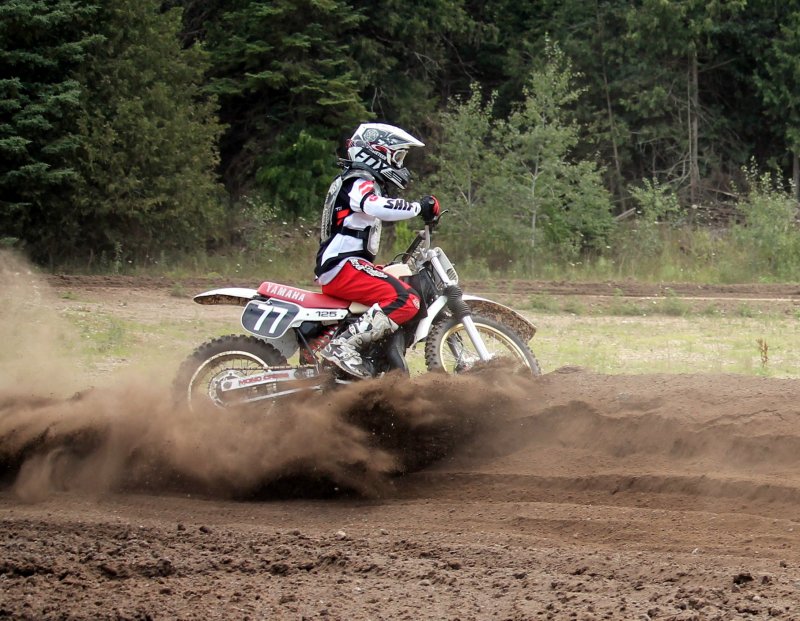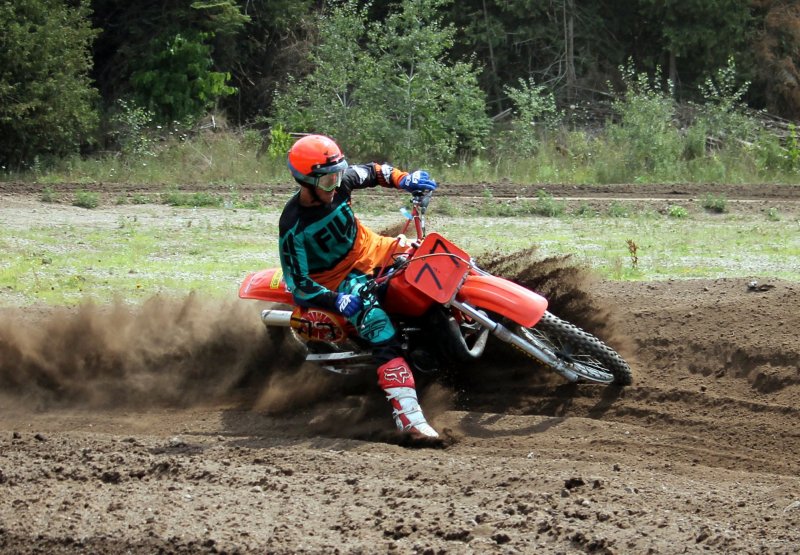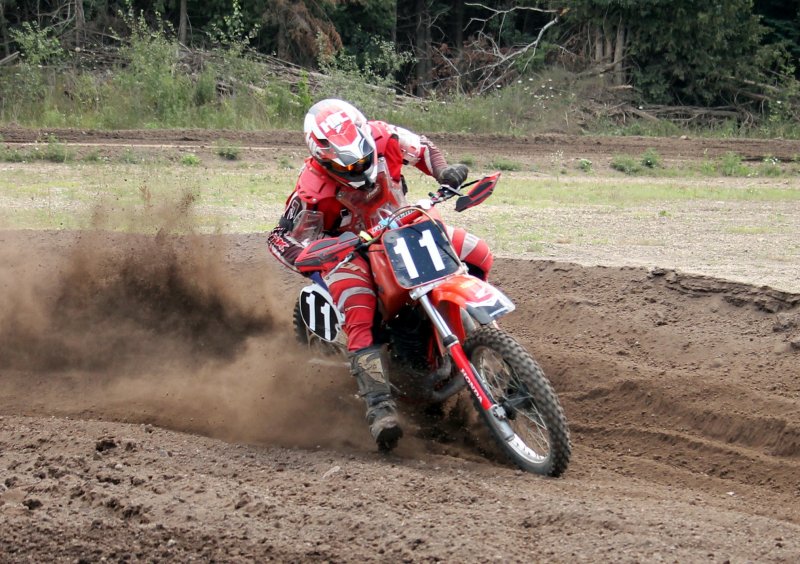 Second Vintage moto. Brent in the lead, Ian in second place, I am coming through in third.
First vintage moto. This would be the battle for second place. Lee on his 490, also you see Steven on his CanAm. This is the jump where Rochelle was flagging.
First vintage moto with me out front hitting Rochelle's jump and heading into the sand.
Rochelle shot some videos from where she was flagging
Nice footage of Steve and Ian in the second vintage moto.
---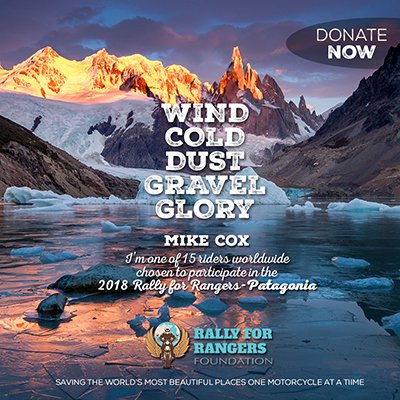 With special thanks to everybody who donated to this great cause I am so proud to announce that I have reached my fundraising goal. Now I want to keep the momentum going. Please donate and help protect the world's special places.
---