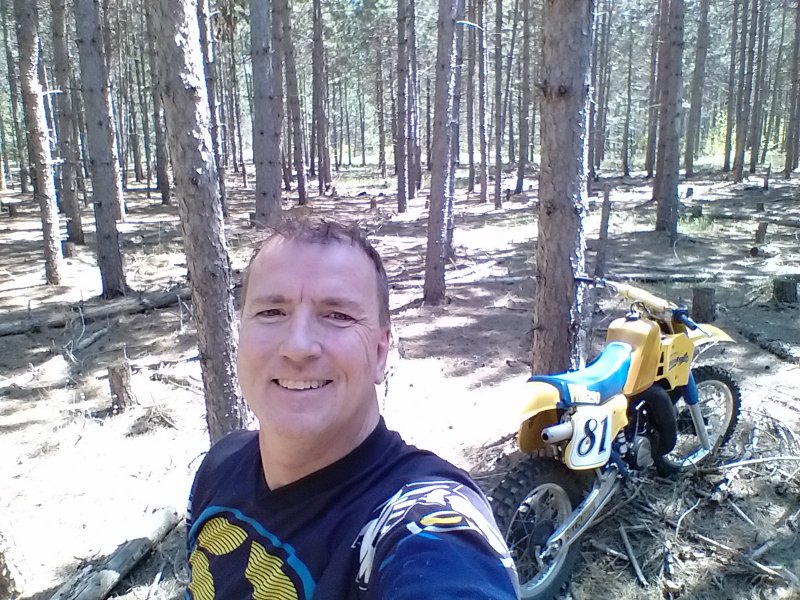 I worked a bunch of extra hours last week so I took the opportunity and had myself a day off. The day just happend to be be my birthday and what better way to celebrate than to ride a litte Vintage Motocross. So far most of my adventures on this bike has been woods riding. I really enjoy the woods, but I still consider myself to be a motocrosser first and foremost. My plan for today was to make the trip to Sand-Del-Lee and do some moto.
I grew up riding in the sand, I love riding in the sand and I am good at it. There is nothing quite like heading to the sand the day after a big rain so today was going to be perfect. I looked up the hours of operation and learned that they open the gates at noon. I decided to leave home at noon make a couple stops and be there for 1:00. When I first started riding at Sand-Del-Lee back in the 80s and through to about 2005, it was a pretty easy going affair but now it is more commercialized so I got fucked.
I may have to go edit this journal later, but right now I am in a pretty sour mood and with this sour mood is a building of resentment. A few weeks ago I went for a ride at Sand-Del-Lee. I was pleased that it only cost me $35. However I only rode 6 laps. I showed up late and shut the place down. As it turns out, they still have their ridiculous policy where you can pay to ride there without a membership once per year and after that you have to spend at least $250 to ride there again. So today, armed with the false asumption that I would be able to ride there and after building myself up and taking a day off work and loading my bike and gear and driving for an hour, I was politely told to pay-up or fuck off... so I chose the latter.
While I was there, I met a contemporary who was about to enjoy a day with his son. We were bench-racing, talking about all sorts of things moto related. The track looked perfect, it was going to be great time to ride. I have to give credit to MX101, they keep the track in good shape and they need to make money just like every other business but I can't help feeling that I am the wrong demographic to be hard-nosed with regarding policy. This same shitty policy reared its ugly head a few years ago when my brother travelled 3500KMs with is son to take me riding at the local track. We rode once and were told politely to fuck off back then too. I don't know what made me think that they changed things up. I guess it is my general positive outlook on life which led me to that wishful thinking.
I contemplated paying the price. It actually is a pretty flexible plan if you decide to pay the $250. For that money, you can ride five times and it can be this year, next year or beyond. So yes, I could have paid the money, but it just didn't sit well with me. I may not ride this bike 5 times at the motocross track. It is old, you cannot get parts for it, if I break it, I may never ride it again. That is the nature of Vintage Moto. I guess it just does not fit well with the track policy.
So I left Sand-Del-Lee for what I would like to say is the last time but I will be back, there is no other place to ride motocross. I could not decide if I wanted to go to Limerick or to Calabogie. I also contemplated going to a sand pit that Korrey told me about. I drove South, then turned around and drove North to Calabogie. It took two hours to get there, with slow drivers and road work. I drove past Campbell Road where I have ridden a few times already. I was in search of something new. I got to the village of Calabogie and stopped at the tourist information booth and asked about the famous Calabogie dirt-bike trails. The kid that worked there was really eager and a pleasure to talk to but dirt-biking is not the tourist activity I thought that it might be for Calabogie.
He told me of the K. & P. trail. The K. & P. was the old Kingston to Pembroke railway and there are many trails that run off of it but from what I could gather, it was all ATV and Jeep trails. He also said I could take the power lines. None of this sounded fun to me. I want single-track, I want some challenge and exercise. He mentioned that the other end of the Campbell Road had some good trails so I just went back to Campbell Road and parked where I did before. I unloaded the bike and did a loop in the single-track, it was fun. It was not Motocross fun, but it was fun. I then filled the gas tank of the old RM and went exploring. The other end of Campbell road just ends at a paved road. I went left and drove for a ways and all I came across was places where people live. I went back the other way and found a power-line. I found that power-lines are just about as much fun to ride now at the age of 51 as they were back when I was 16 which is to say they are no fun.
Here is my ride. I have been tracking my rides using Retrace for BB10... I still use a BlackBerry. The beginning of the ride- the green marker, is where I did the single track riding and had lots of fun. The rest is dirt-road riding and a wee bit of pavement. Still fun but not what I am after.
That was my fourth trip to Calabogie for riding and I have yet to discover anything that really gets the blood flowing other than the single-track at the edge of Campbell Road. Hopefully I will get escorted out there one day so I can finally see what all the fuss is about.
I got home at about 6:30. Mrs. Vintage Moto was sitting in the bed watching TV on the iPad. She mentioned that our daughter needed to borrow money again for the 8th time this month. We went and watched the sunset from the river. The water was glass-calm. We floated around in the kayaks chatting with a neighbour who told me what needs to happen to make Port of Call Marina successful. Opinions are like ass-holes, everybody has one. Perhaps if he would buy his gas there instead of hauling jerry-cans 100-meters out to where his boat is, the Marina could afford to spend the $3,000,000 dollars required to make it all it should be. My guess is a $10,000,000 investment would not bring the locals in even once per-year.
After the kayaking I made some cookies to take the place of a birthday cake. We watched a TV show and then my daughter called to borrow more money for the second time today and 9th time this month. I said no, then no, then no again until I finally had a minor breakdown and nearly cried. In retrospect, I should have just gone to work today- I would have had some fun and would have probably broke even.
---