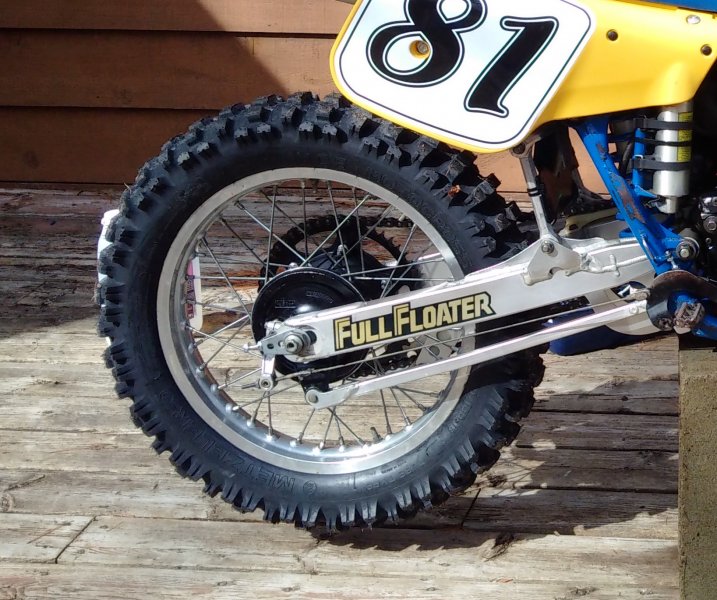 An exciting day today in the restoration of the 1984 RM-250 that I have been talking about non-stop . I acquired a set of Metzler MX5 tires and went and visted my friend Mark Hurst to install them.
When I think about Mark Hurst, I realize that he has been a very bad influence on me. He has cost me thousands of dollars and even a few broken bones. If it were not for him, I likely would not have gotten back into Motocross in 2002. I can't say that for sure though there were other bad influences as well and perhaps what pushed me over the edge back then was Mrs. Vintage Moto buying me a subscrition to Transworld Motocross. Never-the-less, Mark has definitley influneced me greatly and in a positive way. The first time he invited me out to ride I had been on hiatus for quite a few years and we went to an ice-race on the Rideau River and I had an absolute blast riding his brand new RM-250. This was probably in 1997 or 1998. Over the years we have ridden together several times and made great memories. He always invites me out to ride his buddy-bike which is a vintage 1999 CR-250 that he lovingly restored. Yes, Mark Hurst is even partially responsible for me getting into Vintage Motocross.
Enough about Mark. This story is about tires. Back in the day, Metzler tires were what you must own. That was according to our guru brother; Bernie Cox. When we bought a new bike we would always take the Bridgestones off and install some Metzlers right away. Somewhere around Atikokan, there is a pile of Bridgstone tires with very little wear. Because this bike is a rider, I put Metzler MC5s on it.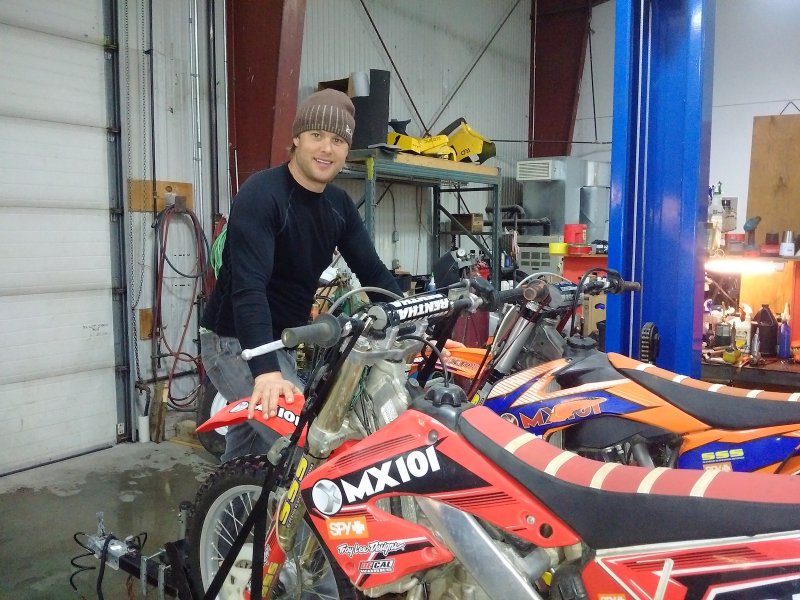 This is Mark Hurst getting his bikes on the trailer. He is pretty excited to get the season started. I have known Mark for many years, he is the only guy I know who looks younger every year.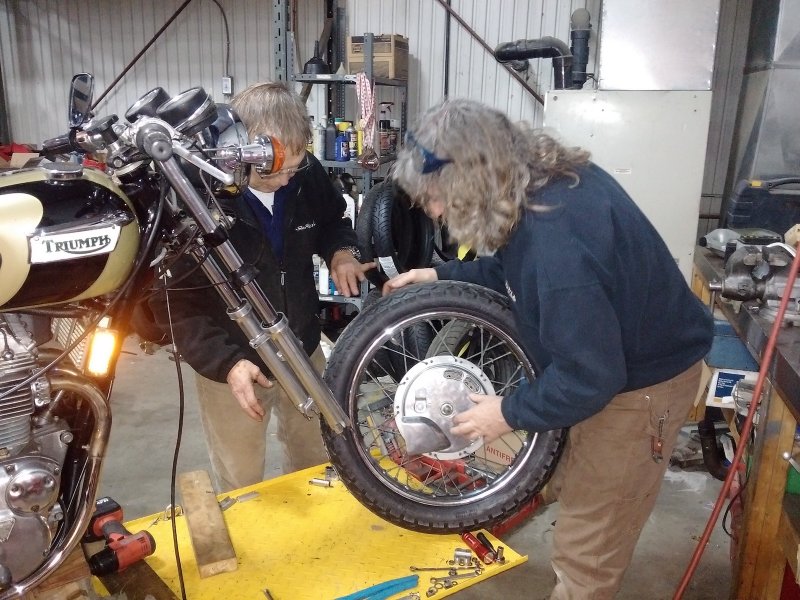 This is Rob Jackson helping Peter Hurst with one of his vintage racers. Peter Hurst is an Ottawa legend. Owner of Hurst Marina, father of Mark- he got into the motorcycle business 40 years ago after emmigrating from England. Rob Jackson works for Hurst Marina, rides a CR-250 and I have know him even longer than I have known the Hursts.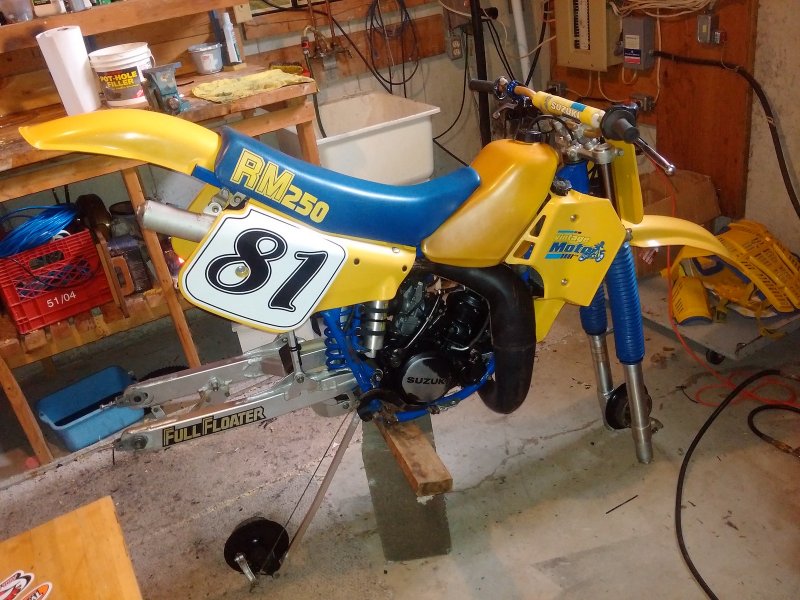 The bike is in the basement so I pulled the wheels off and went to Husrt Marina to spend some time with friends and mount some tires.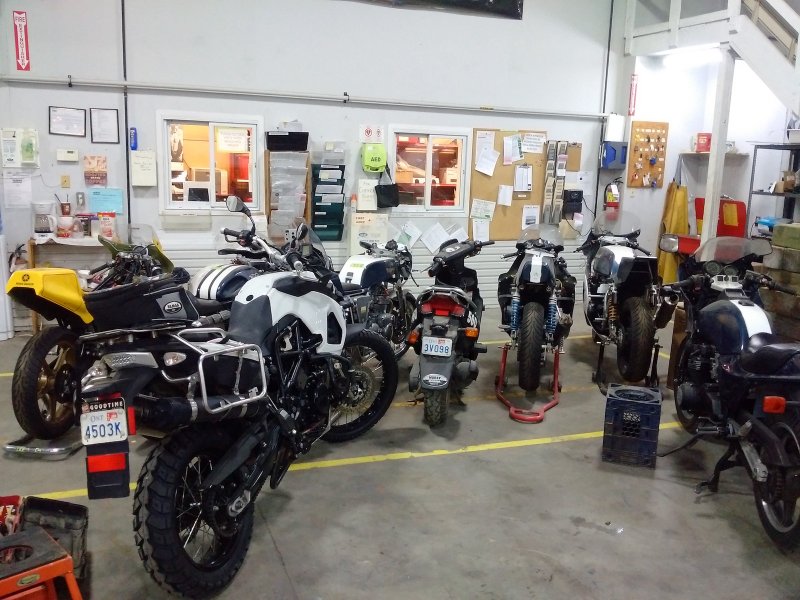 One thing you can count on seeing when you visit the shop at Hurst Marina is a stable of motorcycles. Gotta love these guys.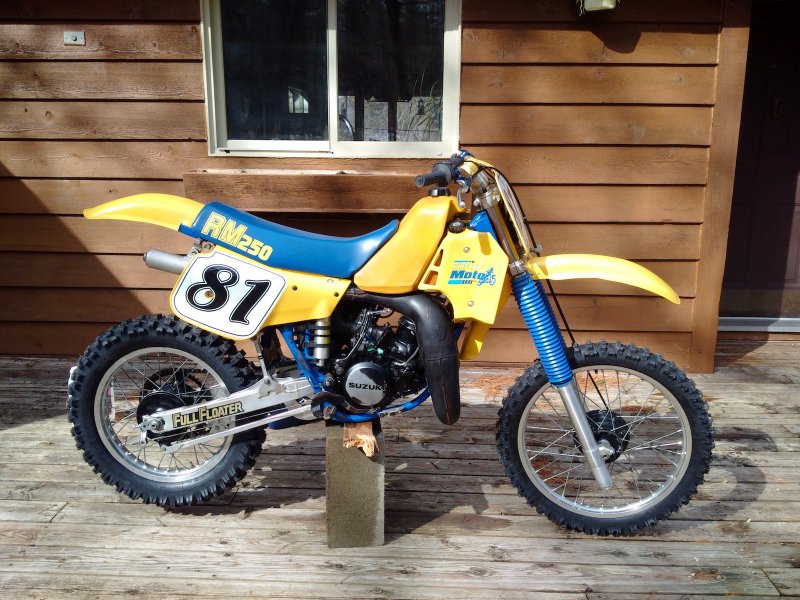 I just couldn't wait. I hauled the bike out of the basement and put the the wheels and chain on. See that window in the background? When I stand in my kitchen, you now know what I see.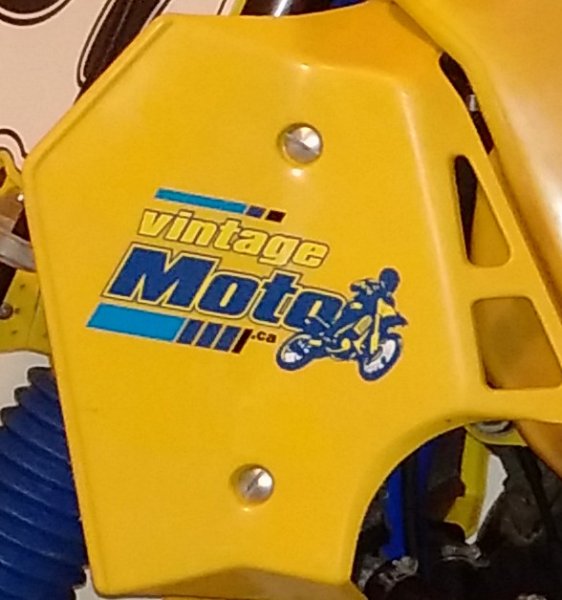 This is the rad shroud with my new logo.
list thing 1
list things 2
and another
---